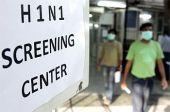 With spiralling cases of swine flu countrywide, southern states have put their health machinery on a heightened alert with Karnataka planning to screen one crore students for the virus under its free health check-up scheme and Tamil Nadu ordering passengers be checked at railway stations.
Tamil Nadu was first state in the south to go on hyper alert, issuing an advisory to people, asking them to avoid travelling to Maharashtra, where the epidemic act has been invoked in two districts, unless necessary.
The death of a girl suffering from swine flu sparked a panic in the country's IT hub of Bangalore, where people thronged the referral hospital Rajiv Gandhi Institute of Chest Diseases (RICD), anxiously queuing up to undergo tests for the flu in the past few days.
Kerala on its part has asked all government hospitals to remain alert while continuing the airport and community surveillance for detection and treatment. In Karnataka, screening for H1N1 flu is on at Bengaluru International Airport (BIA) and Bajpe Airport in Mangalore since May 29 and 3.22 lakh passengers have been tested so far.
International passengers arriving at these airports were being screened round-the-clock by medical teams, Director Health and Family Welfare Services Usha Vasunkar told PTI.
Bangalore witnessed a spurt in the number of people turning up for screening in the aftermath of the Pune death. "Earlier, we had just eight to 10 persons lining up for the screening, now the numbers have increased. On Saturday, we had 75 persons lining up in the OPD department," RICD Director Dr Shashidhar Buggi said.
Many of these persons do not fall in the high risk category as they have not traveled abroad or come in contact with anyone doing so or having the flu. Many of these patients only show signs of common flu, he said.
"These patients keep insisting on a swab test even after doctors have informed them that they do not suspect them of having HIN1 flu," he said.
With the number of H1N1 patients increasing all over the country, Pune-based National Institute of Virology and the National Institute of Communicable Diseases are unable to cope with the load, Vasunkar said.
The situation has prompted authorities to arrange for testing throat culture samples at the department of Neurovirology of National Institute of Mental Health and Neuro Sciences (NIMHANS) in Bangalore and Manipal Hospital in Udupi District, she said.
The government has instructed over 46,000 schools across the state to include H1N1 flu screening in the one-month free health check-up being conducted under the Suvarna Arogya Chaitanya Scheme from Aug 1, she said.
Health officers have been instructed to immediately send throat culture swabs of students suspected of the flu to the NICD or NIMHANS or Manipal Hospital.
The scheme will cover one crore students in one month and "if the situation warrants, the check-up for swine flu will be continued", Vasunkar said.

In Tamil Nadu, more than 7.5 lakh people have been screened so far, with about 240 of them found with symptoms of the virus and 38 testing positive.
The affected persons, mostly from Chennai, Madurai and Coimbatore, where the state's main airports are located, have been quarantined at government hospitals.
The government has provided its hospitals with sufficient stocks of Tamiflu drugs, health officials said.
The Southern Railway and state government are providing face masks to Maharashtra-bound train passengers showing flu symptoms.
According to Kerala Director of Health Services Dr K K Shylaja, 49 cases had been reported so far in the state and the Health Department is following all the central guidelines relating to the management of flu cases.

The Directorate of Health Services regularly conducts teleconferencing with district authorities to keep themselves abreast of the latest situation.