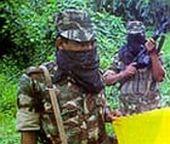 The Centre on Monday said insurgency in the Northeast has been sustained due to the extensive international border, which the militants could freely cross over and take shelter in neighbouring countries where arms and ammunition are easily available.
Inaugurating a three-day conference of Directors General and Inspectors General of police, Home Minister P Chidambaram described endemic insurgencies in the Northeast as yet another security challenge before the country.

"Insurgency in the Northeast has been sustained to a significant extent due to an extensive international border, safe sanctuaries in the neighbouring countries and easy availability of sophisticated arms in Southeast Asia," he said.
Chidambaram said large-scale diversion of development funds to militants gives them easy access to critical resources that helps them recruit new cadres as well as procure arms.
"This Conference should dwell on finding workable ways and means to curb illegal diversion of funds to the militants," he said.
Chidambaram said the trend of gradual deterioration in security situation during the last several years seems to have been checked this year with relative decline in overall violence.

"Sharp shrinkage in social resonance has rendered ULFA a much weaker organisation. A significant chunk of the NDFB choosing to abjure violence and seek redressal through constitutionally available means has marginalised the anti-talks faction and has led to a perceptible reduction in violence in lower Assam," he said.
Maintaining that the hill districts continues to remain disturbed, he said the government welcomes the recent decision of the DHD(J) to surrender arms, remain in camps and talk to the government of Assam on their demands.
"The security situation has improved perceptibly in Meghalaya and Tripura where insurgencies have been contained. Regretfully, Manipur remains resistant to counter-insurgency interventions. It is the most insurgency-affected state in the Northeast," he said.