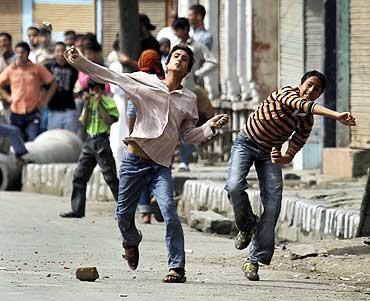 Mounting tensions in Kashmir has come as a shot in the arm for the Lashkar-e-Tayiba, which has been looking desperately for a reason to keep the Valley on the boil.
The violence, following the alleged killing of three youths in Central Reserve Paramilitary Forces firing to curb aggressive protests, does not seem to be dying down due to the involvement of terrorist outfits.
Confirming this to rediff.com, Union Home Secretary G K Pillai said that he had said earlier that separatists were contributing to the problem.
"There are many other elements from across the border who are playing a part in this problem, and want to ensure that it does not die down. We have got the bullet samples of what were fired upon the CRPF personnel in the valley, and that's an indication that some persons have infiltrated into the valley and are adding to the problem," he said.
Indian intelligence officials feel that there is no doubt that the Lashkar has jumped into the fray and is escalating the tensions. It was an expected move on part of this terrorist organisation, since it has been feeling 'left out' ever since the international pressure it faced following the dastardly 26/11 Mumbai attacks in 2008.
"Our inputs suggest that there are at least 50 of them fanning the problem, and just when it appears to be dying down, they do their bit to re-escalate the tension," sources said.
The Intelligence Bureau sources also add that the Lashkar alone has not initiated such a move. There are other groups, such as the Jaish-e-Mohammad, which are also in the fray and all these outfits have chalked out such a move with the blessings of the Inter Services Intelligence.
Over the past couple of months, the Lashkar has been losing a lot of ground in Kashmir. The biggest drawback for the Lashkar is the lack of sympathy from local residents. This is mainly because the valley has been by and large peaceful for quite some time now.
However, today the Lashkar and the ISI faces a tough situation in Kashmir since the attitudes towards the Indian government has changed, the IB feels. Hence it is necessary for them to add fuel to the fire and ensure that there are atrocities against the people, so that they can dish up sympathy and keep their fight alive in Kashmir.
Image: Protestors throw stones at security personnel in Srinagar on June 25. Photograph: Fayaz Kabli/Reuters