While Ahmed Patel staved off the challenge to his Rajya Sabha membership, it leaves the scene wide open for the Gujarat assembly election this winter, reports Janki D'Sa.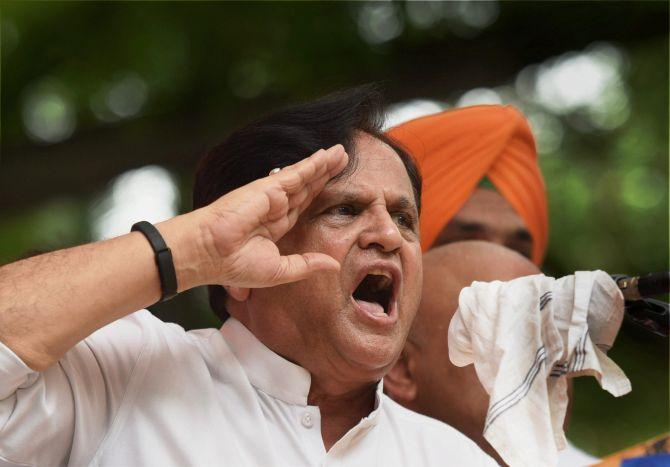 IMAGE: Congress strongman Ahmed Patel. Photograph: Manvender Vashist/PTI Photo
Ahmed Patel's victory in retaining his Rajya Sabha seat, and Amit Shah's failure in resisting his re-entry into Parliament for the fifth consecutive time, is a story of deception, lies and betrayal of politicians from the Bharatiya Janata Party, the Nationalist Congress Party, the Janata Dal-United and the Congress in Gujarat.
Ahmed Patel won the Rajya Sabha election by one vote, and that was because his associate Shaktisinh Gohil fought tooth and nail inside the polling booth in spite of the presence of BJP bigwigs including BJP President Amit Shah.
Gohil was the authorised agent nominated by the party to whom Congress MLAs were supposed to show their vote.
Congress MLAs Bholabhai Gohil and Raghavbhai Patel had declared in advance their intention to vote against their party, the latter having made known his intent six months ago.
Shaktisinh Gohil and Arjun Modhawadia, another Congress leader, knew how Raghav Patel's mind worked since he had been in the party for long.
When voting began, Gohil prompted Patel in Gujarati, saying, 'Show it (the vote) to your master (Amit Shah)!'
In the highly charged flow of events, Patel did exactly that, showing his vote to Amit Shah, as did Bholabhai Gohil.
Thus, their votes in the BJP's favour were annulled because it violated Election Commission guidelines which prohibit legislators from showing their vote to rival agents.
Some leaders in both the BJP and Congress believe this was Gohil's 'Plan B' to safeguard Ahmed Patel's electoral chances, but the truth will probably remain a secret forever.
The story behind the votes of the NCP's Jayant Patel 'Bosky', Chotu Vasava of the JD-U and Nalin Kotadia of the Gujarat Parivartan Party is no less bizarre.
That Chotubhai Vasava could defy Amit Shah and his party till the last minute, that too inside the polling booth, is incredible.
Until a minute before the vote, Vasava was with Shah, but when it came to the vote, he voted for Ahmed Patel with conviction.
This was how four crucial votes actually played out.
1. The JD-U's Chotu Vasava's first preference vote was for Ahmed Patel, his second preference vote for Amit Shah.
Both sides were convinced, by Vasava himself, that they would get his vote.
Vasava is a maverick who has won election after election on the anti-BJP vote.
He has now made up with Ahmed Patel against whom he has fought bitter battles for the tribal votes of Bharuch district. Both Ahmed Patel and Vasava have been political adversaries, vying for the same votes.
When the Manmohan Singh government was in power, Ahmed Patel apparently helped Vasava when cases were filed against his son.
Also, in the last local bodies election, Patel let Vasava control district panchayats with the support of Congress votes.
2. Jayant Patel 'Bosky' gave his first preference vote to the BJP's Balwant Rajput.
The NCP MLA kept saying he voted for Ahmed Patel, both on record and off.
Till the night before the vote, he assured Ahmed Patel that his vote would only go to him.
NCP leader Praful Patel, who reportedly faces serious charges related to his stewardship of the aviation ministry, forced 'Bosky' to play the Congress game in public, but to give the BJP his vote.
3. Nalinbhai Kotadia gave both his votes to the BJP, but later produced a video saying he had voted for the Congress.
He was forced to do so by his team because he has many Patel voters who are angry with the BJP.
4. Kamshibhai, a last-minute rebel Congress MLA from Sanand, gave his first preference vote to Balwant Rajput and the second to Ahmed Patel.
Kamshibhai was among the 44 MLAs who were taken to Bengaluru for 'safe-keeping' by the Congress, and swore publicly that he would vote for Ahmed Patel.
But he changed his mind after his son, who was negotiating with BJP leaders, arrived in Bengaluru and informed him that the talks had succeeded.
Where Team Shah failed and Team Patel won was in the training of MLAs.
A mock voting exercise was carried out thrice in the Bengaluru resort so the Congress legislators knew what to do and what not to do.
The Congress legislators were also given lectures on secularism by two professors from Jawaharlal Nehru University, Delhi, who were flown in specially for the purpose.
Amit Shah loyalist Pardip Sinh Jadeja, Gujarat's minister for home and legislative affairs, and Pankaj Desai, the BJP's chief whip, failed to provide such training to the Congress turncoats.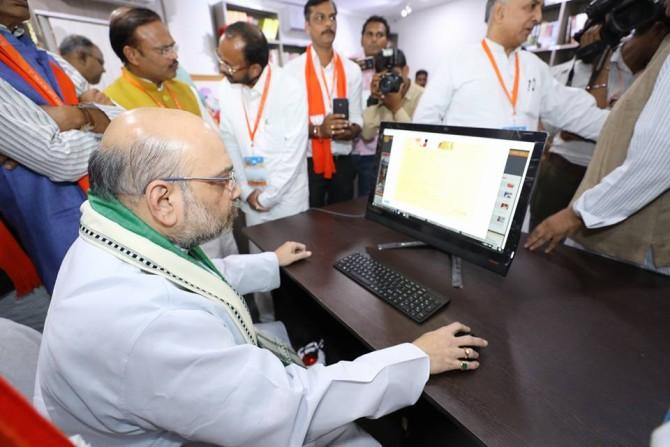 The Shah camp was elated that in the first round they had created a scare in the Patel camp by using Shankersinh Vaghela.
Bapu, as Vaghela is called, played the BJP's game as he had a score to settle with Ahmed Patel.
Vaghela believes Ahmed Patel never allowed him to have full and complete control of the state Congress party, which prevented him from wreaking revenge on Narendra D Modi who dislodged him from power in the BJP.
Between 1995 and 2012 there was no bigger enemy of Modi than Vaghela.
Modi's astute moves in March 1995 installed a Patel as the first BJP chief minister of Gujarat and not Vaghela, a Kshatriya.
Without Modi's manipulation, Keshubhai Patel could not have become CM, and Vaghela never forgot this.
When Modi became prime minister Vaghela got a reality check and understood that Modi was now way beyond his reach.
Also, the serious allegations leveled against Vaghela for his tenure as textiles minister shook him up.
Vaghela and his son Mahendra Vaghela were both Congress MLAs until the father resigned from the state assembly and the son announced his decision to switch sides.
Amit Shah saw an opportunity to use Vaghela to create tremors before the assembly election this winter.
Ahmed Patel got a jolt when six Congress MLAs resigned, but played his cards carefully. So instead of 17 Congress MLAs, as planned, Vaghela could take away only 14.
When Vaghela finally parted ways on July 21, this early warning helped Patel retain his seat in the Rajya Sabha.