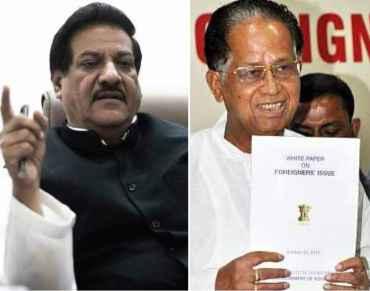 Congress president Sonia Gandhi on Saturday held parleys with the chief ministers of Maharashtra and Haryana amidst the possibility of a change of guard in some of the states where it is in power as the party prepares for a massive rejig in the wake of its unprecedented debacle in Lok Sabha polls.
The day was marked by hectic consultations as Congress debated the pros and cons of replacing its chief ministers in order to beat the anti-incumbency mood in some states and save the party from breaking up in others.
Maharashtra Chief Minister Prithviraj Chavan met Gandhi on Saturday evening, capping a hectic day today.
Before that, Haryana Chief Minister Bhupinder Singh Hooda had met the Congress president.
Following that meeting, sources close to Hooda as well as the All India Congress Committee general secretary in-charge for the state, Shakeel Ahmed, ruled out any likelihood of a change of guard there.
Chavan earlier met veteran party leaders AK Antony and Gandhi's political secretary Ahmed Patel. Antony was the in-charge of Maharashtra at one point of time.
While assembly polls in Maharashtra and Haryana are scheduled at the year-end, Congress is grappling with dissidence in Assam, whose Chief Minister Tarun Gogoi will arrive in New Delhi on Sunday.
Two Maharashtra leaders, Shivajrao Deshmukh and Shivajirao Moghe, too, met Gandhi at her 10, Janpath residence in the national capital. Moghe also later met Antony.
Deshmukh, the chairman of the Maharashtra legislative council, is a four-time MLA who has also been MLC twice. Moghe is currently the minister of social justice in the Maharashtra Cabinet.
The talk about a change of guard in Maharashtra gained momentum after Antony and Patel met Nationalist Congress Party chief Sharad Pawar at his residence on Thursday night, where the issue was discussed threadbare.
Party sources have maintained that in case a final decision to replace Chavan is taken, Antony and Ghulam Nabi Azad could go to Maharashtra as observers.
Congress could win only two and its ally NCP just four of the 48 Lok Sabha seats in Maharashtra in the just-concluded Lok Sabha elections.
The names of senior Congress leader Sushilkumar Shinde and state ministers Bala Saheb Thorat and Radhakrishna Vikhe Patil are doing the rounds as the likely successors to Chavan.
Meanwhile, amid indications that he might be replaced, Assam Chief Minister Tarun Gogoi on Saturday said, "I won't say yes, I won't say no," when asked if such a development was in the offing.
"It is going to be a high command decision only... I am going to Delhi tomorrow. We have a meeting with the high command on Monday," Gogoi said in Guwahati.
Addressing a press conference along with Deepender Hooda, Haryana Pradesh Congress Commitee chief Ashok Tanwar said, "I reiterate what the general secretary has said" when asked whether there was a possibility of a change of guard in Haryana.
Talking to PTI, Shakeel Ahmed had earlier said, "Change of leadership either at PCC level or CLP level is not under consideration."
A section within the party believes that a decision on Haryana could be difficult as the state was headed for polls later this year and the time for effecting a change is short.
Image: Maharashtra CM Prithviraj Chavan and Assam CM Tarun Gogoi