Raghunath Nayak, a gardener at Birla House, displayed immense courage in chasing the Mahatma's murderer, overpowering him at the risk of his life.
Jayajit Dash reports.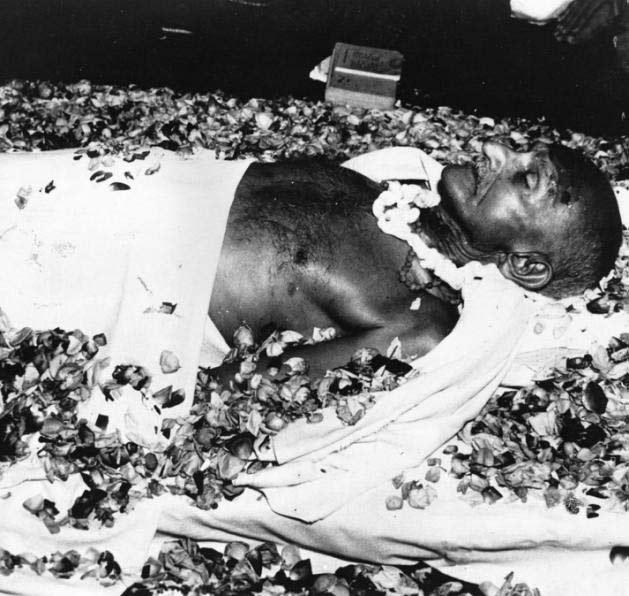 Mandodari Nayak, 85, a native of Jaguleipada village, some 50 km from Kendrapara in Odisha, on May 11 got assistance of Rs 5 lakh (Rs 500,000) from Chief Minister Naveen Patnaik for the heroism her husband Raghunath Nayak displayed more than 68 years ago.
Nayak worked as a gardener at Birla House in New Delhi and, on January 30, 1948, he is believed to have nabbed Nathuram Godse after he had pumped bullets into Mahatma Gandhi.
His daughter Basanti proudly displays a note dating back to 1955 when President Rajendra Prasad's secretary C S Venkatacharya acknowledged Nayak's courage in chasing the pistol-wielding Godse and overpowering him at the risk of his life.
President Prasad had given him prize money of Rs 500. Exactly 50 years later, in 2005, Daimler Chrysler donated a memorial depicting both Gandhi and his gardener at Jaguleipada.
But few historians took notice of him. Only two biographies of Gandhi -- The Last Phase by Pyarelal Nayar and Let Us Kill Gandhi by Tushar Gandhi -- took note of Nayak's selfless act.
"My husband attended to Gandhi's garden, served him goat milk and was also responsible for the maintenance of his room," says Mandodari. Age has withered her body and robbed her of the many memories she would have shared, but the influence of Gandhi is still there.
"Mother would not even think of food if she had not remembered Gandhi during her prayer. This has been a daily ritual for her even after she came back from Delhi to Odisha," says Basanti.
Mandodari stays with her daughter at Joroda village, also in Kendrapara district. Basanti does most of the talking with visitors while her mother nods in approval.
Nayak, along with Mandodari, their three daughters and son, relocated to Jaguleipada in 1973 after he retired from Birla House on a measly monthly pension of Rs 25. This was grossly inadequate and Nayak slowly but surely slipped into financial problems.
He was also afflicted by paralysis that crippled his movement. A son from his first marriage tortured him and made his life painful, claims Basanti. "After my father died in 1983, my step brother and his spouse usurped all our ancestral property, leaving us almost without wealth," she says.
Still, Nayak remained an ardent follower of Gandhi. He would organise prayer meetings on January 30 and October 2 every year. He would also offer his daily prayer in the name of the deceased leader for 30 minutes.
Mandodari did not crave for any property and the only source of her sustenance was her son, Bidyadhar, who used to work in the police department, Basanti says. Unfortunately, he died in a road accident in 2001.
Mandodari along with her daughters shifted from Jaguleipada to Joroda after a family feud. Her other daughters, Shantilata and Jayanti, stay in Bhubaneswar and Cuttack respectively.
But Mandodari hardly visits them these days. "Now, she is completely under my care and supervision. Her health does not permit her to move," says Basanti. "My husband died five years ago. We had hardly any source of income and were forced to borrow from village folk to meet our expenses."
Nayak's pension from Birla House was later raised to Rs 100 a month. But it was hardly enough for the family. In 1997, the then chief minister, J B Patnaik, announced a one-time assistance of Rs 10,000. But it was in 2013 when Naveen Patnaik declared an assistance of Rs 30,000 plus a monthly allowance of Rs 500 that the family got some help.
The moment of comfort came when the chief minister recently announced a financial assistance of Rs 5 lakh. The family was apprised on May 10, a day before the chief minister presented the cheque to Mandodari. A bulk of the assistance will be used to repair the tattered house where they live.