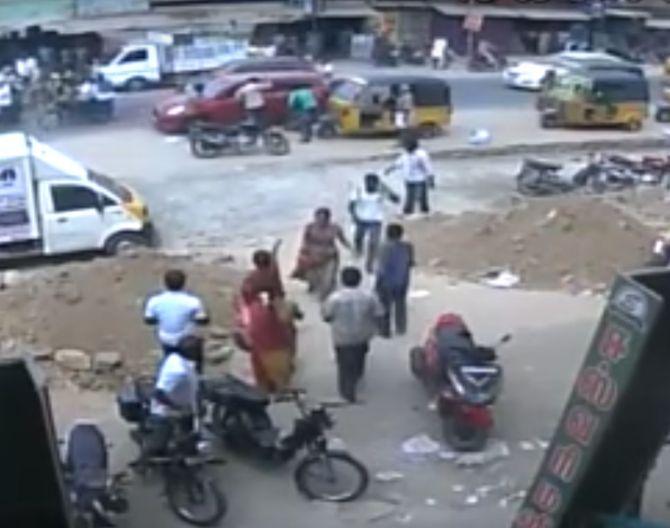 The father of the girl whose husband was brutally hacked to death in full public view in a suspected case of honour killing surrendered on Monday even as a video clip showing three persons attacking the dalit youth in Tirupur district, triggered outrage.
The father surrendered before a local court in Nilakottai in Dindigal district of the state, about 380 kms from Chennai. Kausalya, who too was assaulted, has blamed her father for the attack.
The video that was aired across TV channels of the gruesome attack on 22 year-old Shankar showed his killers approaching him while he was with his wife, at Udumalpet in Tirupur district on Sunday.
The men were seen attacking Shankar and his wife in a fit of rage, dealing repeated blows on the couple. Scared bystanders remained mute witnesses to the carnage on the busy road.
Shankar was left lying by the roadside in a pool of blood.
Facing no resistance, the three attackers left the place in a two-wheeler, not exhibiting any remorse over their bloody act.
Though the incident was widely reported on Sunday itself, the video showed the brutality of the episode, with political leaders decrying killing of Shankar and the attack on his wife.
Tamil Nadu Congress Committee President EVKS Elangovan, Left parties, Marumalarchi Dravida Munnetra Kazhagam, Viduthalai Chiruthaigal Katchi and Dravidar Kazhagam condemned the incident and called for immediate arrest of the culprits.
The incident comes close on the heels of the murder of engineering student Gokulraj of Namakkal in a suspected honour killing.
Meanwhile, tension prevailed at the government hospital n Udumalpet as the relatives of the victim refused to accept he body and sought immediate arrest of the culprits.
Activists from VCK, All India Democratic Women's Association, Thanthai Periyar Dravida Kazhagam and Students' Federation of India also gathered at the hospital premises.
Kausalya, who is recovering at the government hospital, told reporters that her father Chinnasamy was totally opposed to their relationship and threatened to act against Shankar some time ago.
He had told her in clear terms that if she returned home alone, Shankar will be spared, she claimed.
Kausalya said she will be in a position to identify the culprits.
Stone pelting incidents were reported in Kumaralingam, the native place of Shankar, forcing closure of shops, and necessitating deployment of police force in Chennai.
However, the situation was brought under control, police said.
The parents and relatives of Shankar, numbering over 60, gathered at the hospital, where they refused to accept the body, demanding immediate arrest of the culprits and also proof of the arrest.
Image: A screengrab taken from the viral video that captured the brutal murder of the Dalit boy. Photograph: YouTube