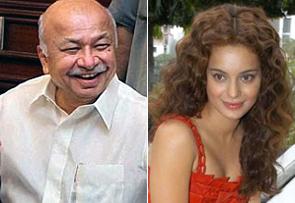 On Sunday evening, while a shocked Centre and a hapless Bihar government were grappling with the aftermath of the Patna serial blasts, Union Home Minister Sushil Kumar Shinde was busy with an assignment of a different kind.
To be more specific, the Bollywood kind!
Shinde was in Mumbai to launch the music of Rajjo, a film starring Kangna Ranaut, at a glitzy event.
So what if six people have been killed, the deadly Indian Mujahideen is back in action and the inability of our security agencies in thwarting terror strikes has once again been revealed?
Incidentally, the home ministry, under Shinde's impeccable supervision, is in charge of all matters related to national security, intelligence agencies and tackling terror threats.
Shinde has obviously got his priorities straight. Filmi events with Bollywood starlets come first, not national security.
BOO Shinde for choosing to attend the music launch of a film on the day when terror struck Patna.