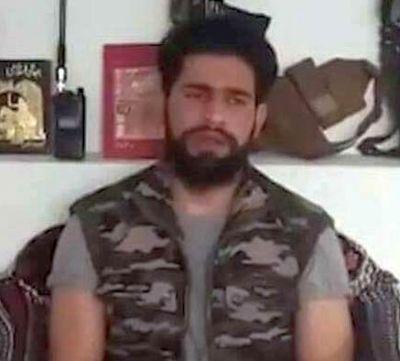 Hizbul Mujahideen, a terror outfit which has been fighting for Jammu and Kashmir's annexation to Pakistan since 1989, on Saturday seemed to be heading towards a vertical split with its valley-based commander Zakir Moosa dissociating himself from the outfit.
A fresh audio tape purportedly carrying his voice appeared in the social media in which the engineering-student-turned militant, Moosa, said that he was not representing Hizbul Mujahideen anymore.
"Hizbul Mujahideen has said that we have nothing to do with the statement of Moosa. So, if Hizbul Mujahideen doesn't represent me then I also don't represent them. From today onwards, I have no association with Hizbul Mujahideen," Moosa said hours after Pakistan-occupied Kashmir-based spokesman of the outfit had distanced the group from Moosa's statement on Friday in which he had threatened Kashmiri separatist leaders with dire consequences if they did not refrain from using the Kashmir issue for political gains.
Moosa was made commander of the banned Hizbul Mujahideen after the death of the outfit's poster boy Burhan Wani in an encounter on July 8 last year.
"I stand by my speech and by my message. It doesn't bother me what others say but I stand by my speech. I have not said anything against Syed Ali Shah Geelani but my statement was only against those individuals who talk about freedom (of Kashmir) for a secular state," he said.
He also made attempts to clarify that he had no association with the Islamic State or the Al Qaeda terror groups.
However, he said he believed in fighting for Islam and not for a secular state.
This is the second time when cracks have appeared in the Hizbul Mujahideen with valley-based commanders and its chief Syed Salahuddin based in PoK not being on the same page.
Earlier in 2002, its valley-based commander Abdul Majeed Dar had refused to take orders from Salahuddin. He was later killed by Hizbul Mujahideen.
Responding to Moosa's threats to the separatist leaders, Hizbul Mujahideen spokesman Saleem Hashmi had said in a statement from Muzaffarabad in PoK that "the outfit has neither got anything to do with the statement of Moosa nor the statement is acceptable to it."
Terming Moosa's remarks in an audio slideshow that surfaced in Kashmir's social media as his "personal opinion", Hashmi cautioned that any statement or step which will create confusion "can prove a death knell for our struggle".
In a 5.40-minute audio, Moosa had warned the separatist leaders not to meddle in their aim to establish a caliphate in Jammu and Kashmir along the lines of the rule established by the IS in parts of Syria and Iraq.
Hizbul Mujahideen is almost as old as the Kashmiri militancy which started in 1989. The group is made up almost entirely of local youths, and had always campaigned for
joining Pakistan.
The clip surfaced after Hurriyat leaders recently sought to downplay the growing influence of IS ideology in the Kashmir Valley.
Earlier this week, Hurriyat leaders like Syed Ali Shah Geelani, Mirwaiz Umer Farooq and Yaseen Malik issued a joint statement in which they claimed that the Kashmir struggle has nothing to do with the IS, the Al Qaeda and other such organisations.