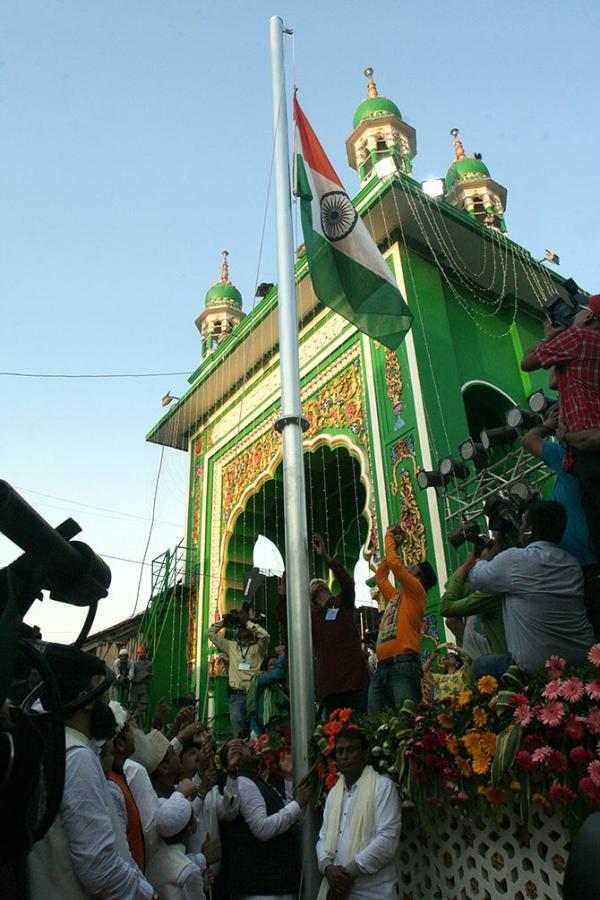 Hundreds of Muslims hoisted the Tricolour whilst chanting 'Bharat Mata Ki Jai' at Mumbai's Mahim dargah.
In a testament to the unity of the country's religious fabric, the unfurling of the Tricolour was followed by the playing of the National Anthem by the Mumbai Police Band, as the Muslim community joined the police officers.
Prasanna D Zore/Rediff.com reports.
Video: Afsar Dayatar/Rediff.com; Photographs: Uday Kuckian/Rediff.com
For the record, this is the first time since India became independent that the Tricolour was unfurled at a dargah.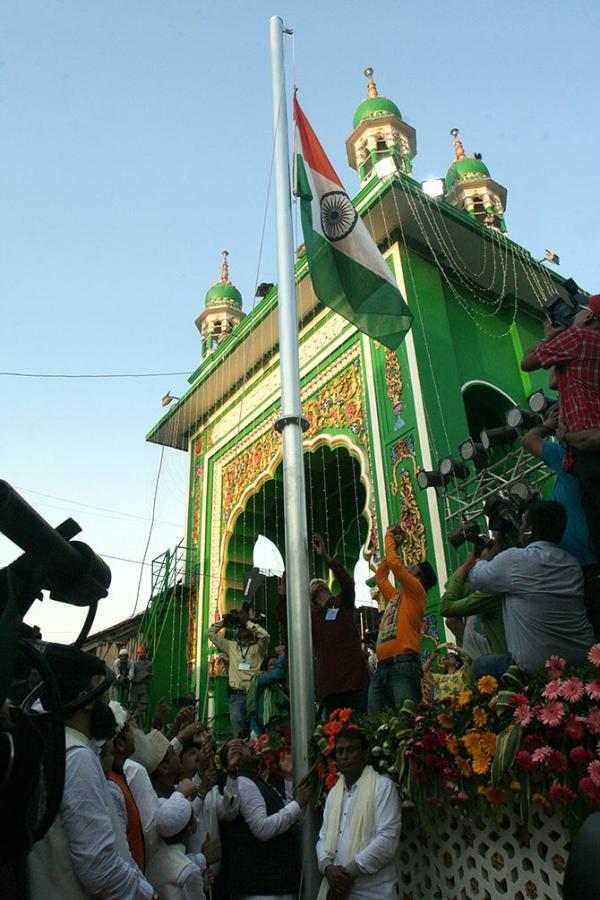 IMAGE: Members of the Peer Makhdum Shah Baba Trust unfurl the Tricolour at the Peer Makhdum Shah Baba dargah in Mahim, north-central Mumbai.
The Peer Makhdum Shah Baba dargah in Mahim, which is celebrating its 603 Urs (death anniversary of a saint) this year and which is visited by Indians of all denominations, was a scene of patriotic-religious bonhomie as ordinary and prominent people from all walks of life in Mumbai gathered at the dargah to pay their respects to the Tricolour and the Peer.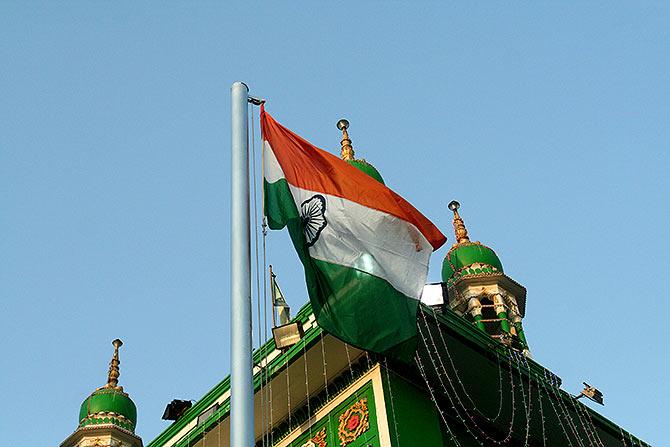 IMAGE: The Tricolour flutters in all its glory at the Peer Makhdum Shah Baba dargah in Mahim.
Suhail Khandwani, the president of the dargah's trust, who unfurled the Tricolour along with Shiv Sena MP Rahul Shewale among others, had earlier in the day said, "I am doing it out of love for my country, but I will not call anybody who refuses to do so as anti-national or unpatriotic."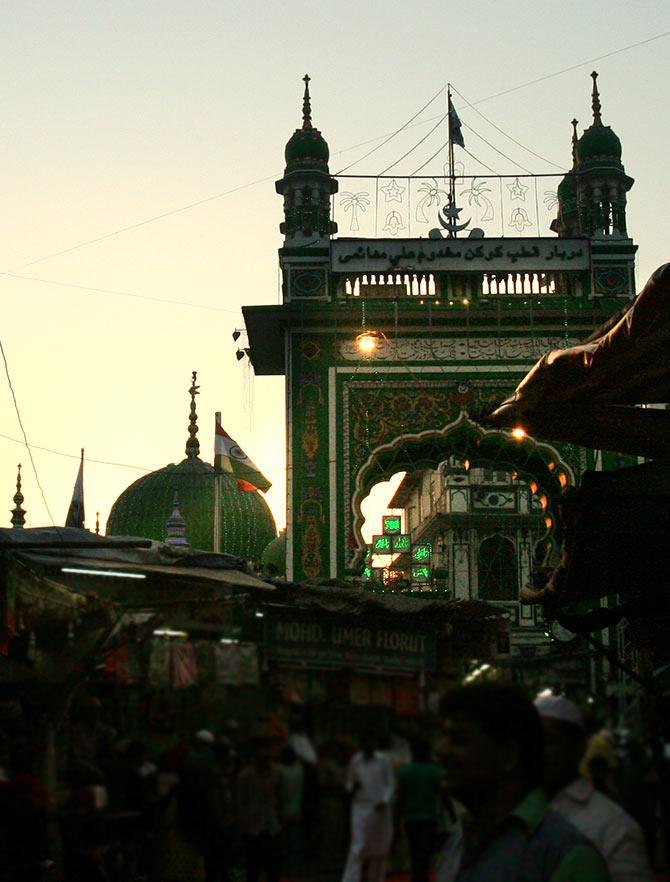 IMAGE: Local visitors, tourists as well as photographers waited with baited breath to see the Tricolour unfurl.
"For the first time ever, the Tricolour was unfurled inside the dargah. This is a historic moment for us and will send a great message to the entire nation," Haji Arafat Shaikh, president of the Shiv Vahtuk Sena and a Shiv Sena leader, said after the hoisting of the Indian flag and the chanting of 'Bharat Mata Ki Jai.'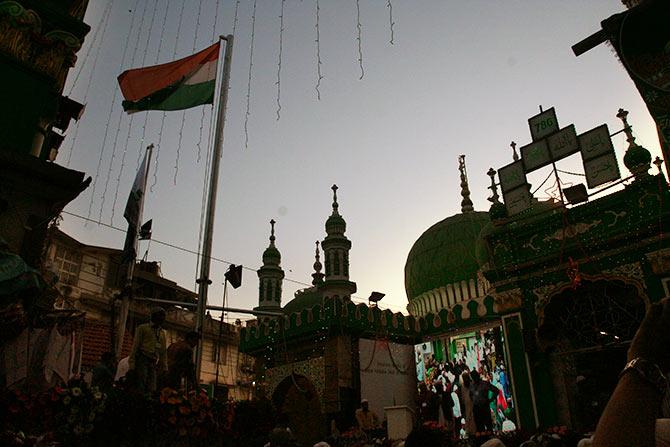 IMAGE: The Tricolour, the minarets of the dargah and the Muslim religious symbol come together showcasing India's unity in diversity.
"While Maharashtra Chief Minister Devendra Fadnavis was originally scheduled to unfurl the tiranga, he could not make it to the event as he was delayed because of the ongoing session of the Maharashtra assembly," Khandwani said.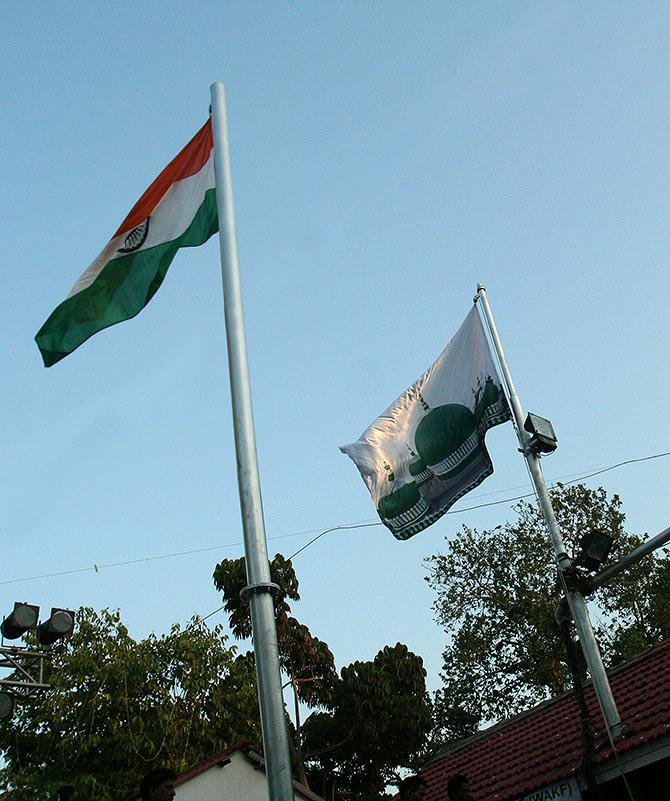 IMAGE: The Tricolour and the flag of the Peer Makhdum Shah Baba fly next to each other at the dargah.
"So, we had to unfurl the tiranga before sunset as the chief minister will now come only after 7.15 pm," Khandwani said.