A landmark climate change deal was on Saturday clinched with the approval of India, China and the US, after days of tough negotiations here with the legally-binding pact seeking to limit global warming to "well below" 2 degrees Celsius and committing USD 100 billion a year from 2020 to help developing nations.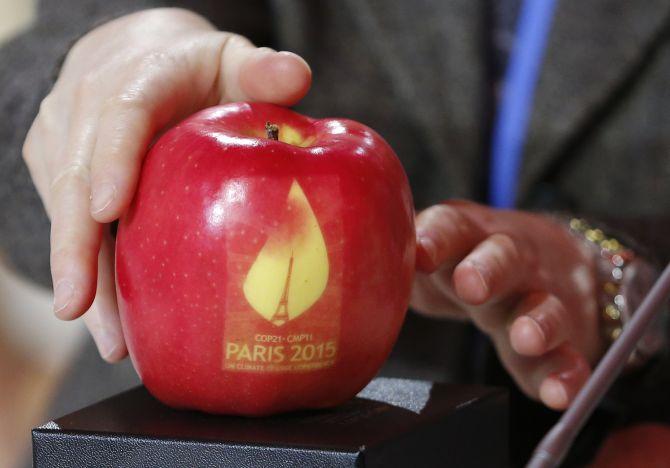 A participant holds an apple marked with the logo of the World Climate Change Conference 2015 during a meeting at Le Bourget, near Paris, France. Photograph: Stephane Mahe/ Reuters
The target of well below 2 degrees Celsius and even more ambitious 1.5 degrees Celsius was originally expected not to be to the liking of developing countries like India and China who are major emitters on account of industrialisation but Environment Minister Prakash Javadekar was effusive in his elcome of the 31-page document.
On the crucial financing issue, developed countries agreed to muster at least USD 100 billion a year from 2020 to help developing nations. However, following US objections, it was not included in the legally binding section of the deal.
Ending nearly a fortnight of gruelling UN negotiations, French Foreign Minister Laurent Fabius banged the gavel to announce that the Paris agreement has been adopted, marking consensus among the ministers, who stood for several minutes to clap.
"I see the room, I see the reaction is positive, I hear no objection. The Paris climate accord is adopted," Fabius declared.
The deal, to take effect from 2020, ends decades-long rows between rich and poor nations over how to carry out what will be a multi-trillion-dollar effort to cap global warming and deal with consequences already occurring.
The Paris accord sets a target of limiting warming of the planet to "well below" 2.0 degrees Celsius compared with the Industrial Revolution, while aiming for an even more ambitious goal of 1.5 degrees Celsius.
Earlier, French President Francois Hollande had called Prime Minister Narendra Modi in an apparent bid to persuade India to go with the deal.
Welcoming the deal, Javadekar said, "Today is a historic day. What we have adopted is not only an agreement but we have written a chapter of hope in the lives of 7 billion people."
He had earlier said that the differentiation between developed and developing countries, which India had been demanding, was mentioned across all the pillars of action including mitigation, adaptation, finance and access to technology.
He had said the draft text was a "balanced" one and was a way forward for the world.
Terming it as an "important achievement" for India, Javadekar had said that "sustainable lifestyles and climate justice" which have been espoused by it also get a mention in the final 31-page draft.
"After the first glace of the final text, we are happy that the text contains and take care of concerns of India. It is linked with the convention (United Nations Framework
Convention for Climate Change) while Common But Differentiated Responsibilities is imbibed in it," Javadekar said.
"More importantly, differentiation for developed and developing countries are mentioned across all pillars of action -- mitigation, adaption, finance, technology capacity and transparency. That is very important thing," he said.
Welcoming the deal, Javadekar said, "Today is a historic day. What we have adopted is not only an agreement but we have written a chapter of hope in the lives of 7 billion people."
Javadekar had earlier said that India had been stressing on two important concepts -- climate justice and sustainable lifestyles -- in the last one year.
"More importantly for India Prime Minister Narendra Modi has always espoused cause of sustainable lifestyle and climate justice. Both have found mention in the preamble of the text. That is an important achievement for India. These two concepts were put up very forcefully by India in the last one year," he had said.
India wanted the concept of 'differentiation' to be clearly spelt out in all elements of the agreement and had been taking the position that developed countries must have a greater responsibility to accept emission reduction targets while they must be the only ones to mandatorily provide financial resources.
Environment groups said that the Paris agreement was a turning point in history and spelt the demise of the fossil fuel industry, pointing particularly to the significance of the 1.5C goal.
The Climate Group and its business and sub-national government partners from the US, Europe, China and India called Saturday's climate agreement "a victory for science and vision which calls time on the fossil fuel age.
The agreement charts the world firmly on course for a clean industrial revolution.
Krishnan Pallassana, India Executive Director of the group said, "This deal positively reflects on India's contribution to the collective global commitment – balancing responsibilities and capabilities on one hand, with aspirations and needs on the other."
"In India, there is a golden opportunity for the private sector to take advantage and move towards a prosperous low carbon future by demanding as well as investing in clean energy.
"The benefits for business are threefold -- greater energy security, affordable supplies, and recognized leadership internationally. The Climate Group welcomes this prevalent move from the Narendra Modi government and we look forward to more Indian corporate companies joining the RE100 campaign to embark their support towards effective climate action," he said.
Meanwhile, Greenpeace International said, "It sometimes seems that the countries of the United Nations can unite on nothing, but nearly two hundred countries have come together and agreed a deal.
"Today the human race has joined in a common cause, but it's what happens after this conference that really matters. The Paris Agreement is only one step on long a road, and there are parts of it that frustrate and disappoint me, but it is progress. This deal alone won't dig us out the hole we're in, but it makes the sides less steep," said Greenpeace International executive director Kumi Naidoo said.
The landmark climate accord can be read HERE.