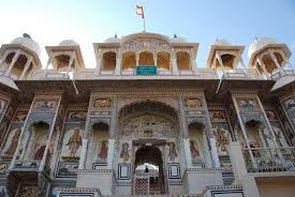 Ancient ashtadhatu idols of Lord Rama, Hanuman along with idols made of gold and silver of other deities worth crores of rupees were stolen by thieves from the Raghunathji temple at Sultanpur in Rupi Palace at Kullu, police said on Tuesday.
Thieves have stolen the ashtadhatu idols of Lord Rama, Lord Hanuman, a gold locket and a chain, a gold-plated Narsinh Shila (stone), silver idol of lord Ganesh and some other articles of worship on Monday night, police said.
A case has been registered on the statement of Devinder Singh, son of Maheshwar Singh, MLA, who is also caretaker of the deity, they said, adding that the superintendent of police along with team of forensic experts have reached the spot and started investigations.
A massive manhunt has been launched and the interstate borders have been sealed but the police was not sure whether the culprits are still within the state. There was no deployment of security guards in the temple as it is a private property.
Maheshwar Singh, who was at Dharamsala to attend the assembly session, immediately rushed to Kullu and assisted the police in preparing the list of stolen idols and other valuables.
The idols of Lord Rama and Lord Hanuman were brought from Ayodhya to Kullu in 1651 during the regime of Raja Jagat Singh. The idols made of ashtadhatu date back to second or third century but the devotees claim that these belong to the Ramayana era and it is difficult to assess their antique value.
The famous Dussehra festival of Kullu also started after the idols of Raghunathji, Sita and Hanuman were brought to Kullu.
Robbers had struck the Raghunath temple in January this year also and stolen the antique crown and 165 gm of gold and 41 kg of silver.
Surprisingly the thieves did not steal the idols of Rama (Lord Raghunath), Sita and Hanuman from the sanctum sanctorum but this time they took away the idols of Raghunathji and Hanuman.
Market value of the stolen precious metals has been assessed at Rs 24 lakh but the antique value of the stolen goods in the international market price was said to be in crores of rupees.
Image: The Raghunath temple in Himachal was struck by thieves in the past too.