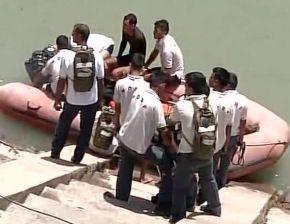 Saturday's special search operation to trace the 17 engineering students from Hyderabad who were swept away in the Beas river yielded no results as the 450 rescuers combing the three-km stretch of the river, whose water level was lowered to minimum, failed to recover the body of any student.
About 600 rescuers, including 450 workers and divers, commenced the search for the missing students at 6 am on Saturday by focusing on the three-km stretch of the river towards the Pong dam. Fifteen divers from Hyderabad also joined them.
The bodies of eight persons were recovered during the first four days, while there was no progress on Friday and the rescuers failed to recover any body on Saturday too.
The special search operation by lowering the water level to a minimum was undertaken after an unmanned aerial vehicle had on Friday failed to trace the missing students who drowned in the river on June 8.
"The water level in the three-km river stretch near the accident spot was minimised for almost an hour in the morning by controlling the inflow to enable the rescue teams to go deeper," Mandi deputy commissioner Devesh Kumar said.
National Disaster Response Force's commanding officer Jaideep Singh said the focus of the search was to locate the bodies trapped under the boulders, and "our jawans are trying to reach every boulder to search the bodies which appear to have been trapped in silt and rocks and huge stones".
"Poor visibility, abundance of silt and rocks, and strong water currents are impeding the rescue operations but our divers are doing their best," National Disaster Management Authority vice-chairman M Shashidhar Reddy said.
Over 50 divers from the NDRF, the Army, Navy and the ITBP have been involved in the search operation and 15 divers from Hyderabad joined them on Saturday.
As many as 25 members of the VNR Vignana Jyothi Institute of Engineering and Technology, Hyderabad, who were on an excursion to Manali, were swept away in the river after a sudden release of water from the reservoir of the Larji hydro-power project near Thalot.
The police have registered a case against Larji hydropower project authorities for causing death by negligence and endangering the life of people.