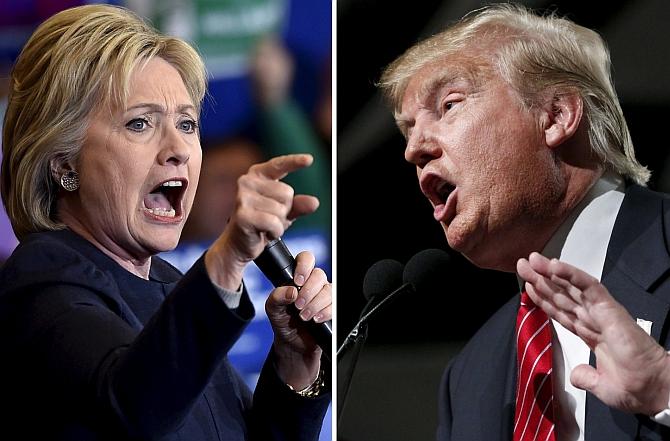 The war of words between Donald Trump and his Democratic rival Hillary Clinton on Wednesday reached a new high with the presumptive Republican presidential nominee calling her a "world-class liar" while she hit back describing him as "self-proclaimed king of death" for his rhetoric, economic policies.
It all began from New York where Trump attacked Clinton as a "world-class liar" who had "perfected the politics of personal profit and theft" and lacked the judgment to be America's first woman commander-in-chief.
"Clinton may be the most corrupt person ever to seek the presidency," he said in a speech.
In the speech, which was fully focused on his Democratic rival for the November elections, Trump alleged that the book, "Clinton Cash" by Peter Schweizer, documents how Bill (Clinton) and Hillary used the State Department "to enrich their family in America's and at America's expense."
"Hillary Clinton gave China millions of jobs, and our best jobs, and effectively let China completely rebuild itself. In return, Hillary Clinton got rich," Trump told his cheering supporters in New York.
"She gets rich making you poor," he said amidst applause.
"Most people know she's a world-class liar. Just look at her pathetic e-mail server statements or her phony landing in Bosnia, where she said she was under attack, and the attack turned out to be young girls handing her flowers, a this was a total and self-serving lie," he said.
"Hillary Clinton has perfected the politics of personal profit and even theft. She ran the State Department like her own personal hedge fund, doing favours for oppressive regimes, and many others and really many, many others in exchange for cash. Pure and simple, folks. Pure and simple," he alleged.
"Then when she left, she made $21.6 million giving speeches to Wall Street banks and other special interests and in less than two years, secret speeches that she does not want to reveal under any circumstances to the public.
"I wonder why? Together, she and Bill made $153 million giving speeches to lobbyists, CEOs and foreign governments in the years since 2001. They totally own her and that will never ever change, including if she ever became president, God help us," Trump alleged.
Within a few hours, Clinton, who is leading in polls, responded strongly at another election rally in Raleigh city in North Carolina.
Clinton slammed Trump describing him as "self-proclaimed king of death" for his rhetoric, economic policies that would take the country back to recession.
She alleged that Trump represents the interest of the rich and wealthy. She warned that the country would not only experience another round of recession, but the common man and the middle class would have to suffer under a Trump presidency.
"Trump offers no real solutions to economic. I am here today to offer an alternative," Clinton said to her supporters in North Carolina, which is one of the few States where Trump is leading by a slim margin in latest opinion polls.
"We need to make sure our economy works for everyone," Clinton said, challenging the economic policies of the billionaire from New York.
In her appearance in Raleigh, which of late has seen influx of large number of Indian Americans because of relocation of various IT companies and scientific research institutions, Clinton appeared unperturbed by Trump's latest accusation.