Intermittent heavy rains on Tuesday lashed Mumbai, affecting normal life as suburban trains were running late and traffic snarls were reported on some roads.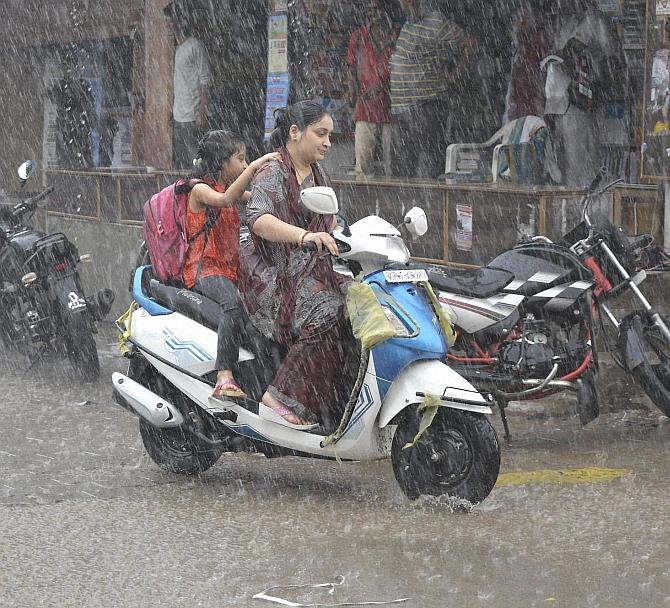 According to the disaster management control room of Brihanmumbai Municipal Corporation, the BEST buses were running smoothly while suburban trains on the Central, Harbour and Western lines were running late by 10 to 15 minutes.
The good rainfall in catchment areas has led to a considerable rise in levels of water reservoirs, though BMC said the stock was "satisfactory", but not "sufficient".
The reservoirs supplying water to Mumbai have got filled upto 55 per cent of the annual requirement, BMC's deputy municipal commissioner (general administration) Sudhir Naik said.
"Till Tuesday morning, we have water stock of 7,52,445 million litres, which is almost 55 per cent of our yearly requirement of 14 lakh million litres, which can be called satisfactory but not enough," Naik said.
Following the heavy rains, the Tulsi lake in suburban Powai started overflowing on Tuesday morning, he said.
Private weather forecaster Skymet predicts that moderate to heavy showers will continue over Mumbai for next 48 hours.
Thereafter, intensity of rains will reduce but patchy showers will continue, with few places recording heavy rains as well. Rains have finally picked up pace over the entertainment capital, which can be attributed to the off-shore trough running along the West Coast, from Maharashtra up to Kerala, it said.
Mumbai has been recording on and off light rain with few moderate spells till now but the famous three digit rains have been missing. July is the rainiest month for the city, with number of rainy days also increasing significantly, Skymet added.
The Indian Meteorological Department, meanwhile, has forecast heavy rains at some places in Konkan region.
"In the next 24 hours, intermittent as well as heavy rainfall is likely in the Konkan region, especially in south Konkan region. We are contemplating to issue an advisory to fishermen in those areas," IMD Mumbai's forecast director Shubhangi Bhute said.
During the last 24 hours, the central Maharashtra and Marathwada regions witnessed mild rainfall, while Konkan region got good downpour she said.
The rainfall recorded at some prominent places in Mumbai and Konkan region during last 24 hours is as follows: Colaba - 55.8 mm, Santacruz - 58.3 mm, Harnail - 110.9 mm, Ratnagiri - 67.7 mm, Alibaug - 89.4 mm, Bhira - 83 mm and Mahabaleshwar - 49.9 mm rain.