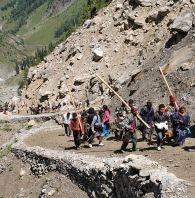 The ongoing pilgrimage to the cave shrine of Amarnath in south Kashmir Himalayas was on Tuesday suspended from Pahalgam and Baltal base camps as heavy rains lashed parts of the Valley, officials said in Srinagar.
"Heavy rains rendered the twin tracks leading to the cave shrine from Pahalgam in Anantnag district and Baltal in Ganderbal district unsafe, prompting the authorities to suspend the yatra around 1 pm," they said.
They said several hundred pilgrims who had left for the cave shrine from the base camps of Nunwan along the 45 km traditional Pahalgam route and the shorter 16 km Baltal route have reached different camp sites and are safe.
"The pilgrims have been directed to stay back at the camps till further orders," the officials said.
The authorities are monitoring the weather at an hourly basis and a decision to resume the yatra will be taken once rains stop and the tracks are safe for movement of the people, they added.
Meanwhile, an unidentified sadhu died of cardiac arrest at Sheshnag along the Pahalgam-cave route on Monday, raising the death toll in the ongoing yatra to 14.
The yatra commenced on June 28 and is scheduled to end on August 21 coinciding with the Hindu festival of 'Raksha Bandhan'.
So far, over 3.51 lakh pilgrims have paid their obeisance at the 3,880 metre high cave shrine housing the naturally formed ice-shivlingam.