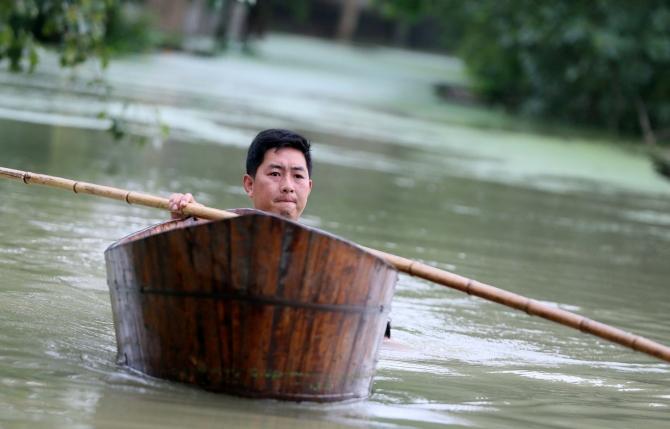 IMAGE: A man rows a wood basin on a flooded street in Hefei, Anhui province, China. All photographs: Stringer/Reuters.
At least 160 people have been killed and 28 others listed missing in China due to heavy rains and floods as the country on Thursday braced for this year's first typhoon approaching the mainland with authorities issuing an early-warning response for disaster relief preparations.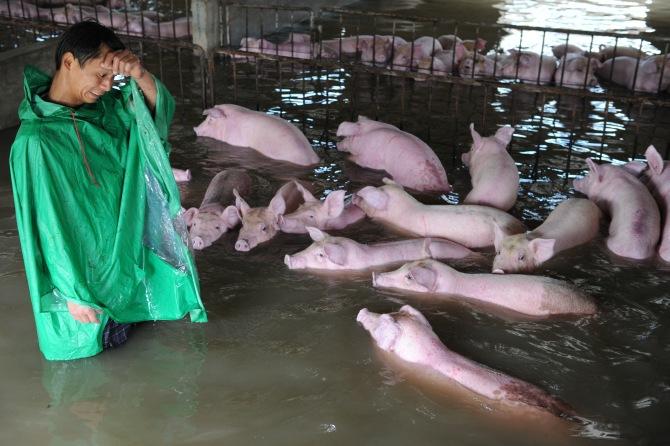 IMAGE: An employee looks at pigs, which cannot be moved away from a flooded farm due to an environmental protection and epidemic prevention measure, before he leaves for a safer place in Liu'an, Anhui Province, China.
Hail and rainstorm killed 160 people in 11 provincial regions, mainly along the mighty Yangtze River and its distributaries, and have left 28 missing, state-run Xinhua news agency reported.
Floods and landslides have forced the evacuation of 1.84 million people. About 56,000 houses have collapsed and 560,500 hectares of crops destroyed. Authorities estimated economic losses to the tune of nearly $9 billion.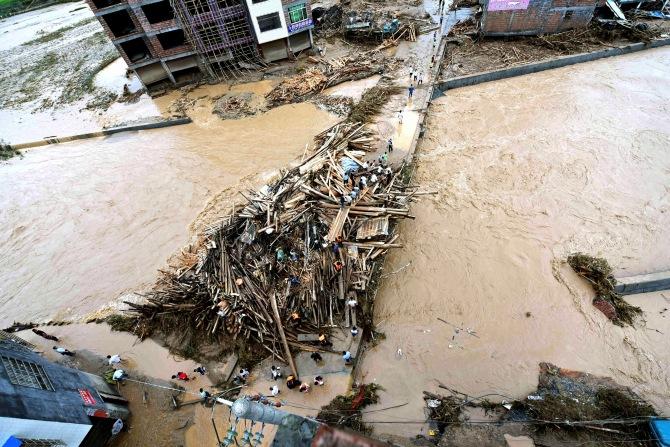 IMAGE: Wood from a factory, brought by floodwater, piles up at a bridge in Huanjiang County, Guangxi Zhuang Autonomous Region, China.
On Wednesday, China rushed more troops to the southern city of Wuhan as flood waters from the Yangtze entered the city inhabited by more than 10 million people.
Meteorology department officials said Typhoon Nepartak was whirling towards east China's coast and is expected to bring storms on Thursday night.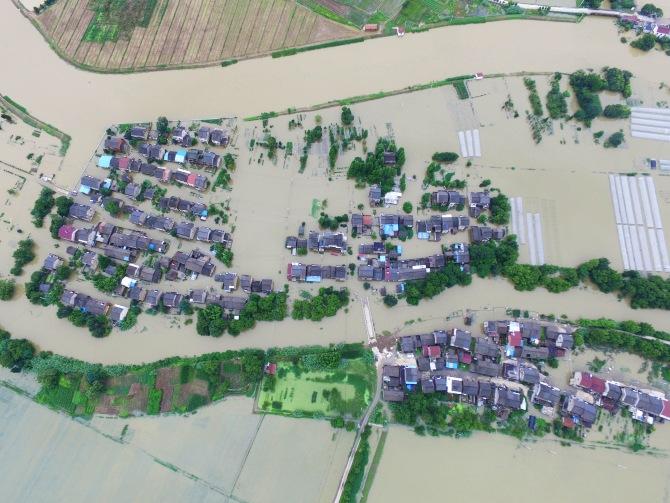 IMAGE: An aerial view shows that houses are flooded in villages in Wuxi, Jiangsu Province, China.
The National Commission for Disaster Relief and the ministry of civil affairs issued the response on Thursday afternoon, warning local authorities to make preparations for disaster relief and asking them to do their best to reduce damages.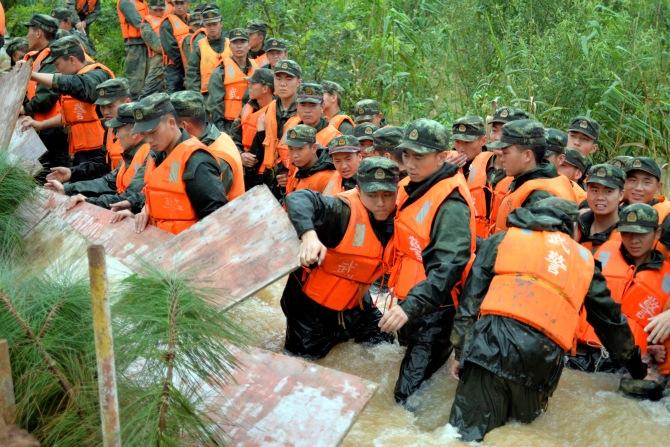 IMAGE: Paramilitary policemen stand in line to block flood in Nanjing, Jiangsu province.
The commission asked Shanghai, Jiangsu, Zhejiang, Anhui, Fujian and Jiangxi to closely monitor the typhoon's movement around the clock and issue warnings in a timely manner.
The ministry asked officials to relocate people, recall ships to harbours and inform residents to buy and store survival necessities for one to three days.