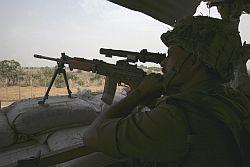 The Border Security Forces troops on Sunday foiled a pre-dawn infiltration bid by suspected militants in Ramgarh in Samba district on the Indo-Pak border in Jammu and Kashmir after a heavy exchange of fire with the ultras, prompting India to lodge a protest with the neighbouring nation over the incident.
The militants were spotted around 0105 hrs. Heavy exchange of fire continued till 0145 hours. The militants escaped back from the spot towards Pak side, Deputy Inspector General of BSF, J B Sagwan told PTI on phone from the incident spot.
"There was no casualty on the BSF side," he said adding, "There is no confirmation of the dead of injured on militants' side."
A group of militants entered into the Indian side via the international border and BSF troops picked up their movement one km away from the border fencing at Balrah Border Out Post in Ramgarh sub-sector of Samba district, Sagwan explained.
On being challenged by the troops, the militants fired on the post, he said adding, the BSF troops also retaliated.
BSF has lodged a protest over the incident with their counterparts -- Pakistan rangers. "We have lodged a verbal protest with the Pakistani counterparts. Pak rangers told us they had not fired on the spot at all...It may be militants", the DIG said.
A formal commanders' level flag meeting would take place at the border out-post to seek explanation from the Pak rangers after presenting them details of the firing.
Ruling out any infiltration of the armed militants in Jammu and Kashmir in wake of the attempt, Sagwan said, "There is hardly any possibility of infiltration. There is fencing and the Bansatar river is swollen with the flood waters, which is difficult to cross."
However, vigilance has been increased along the IB, Listening and Observation posts have been alerted and night patrols intensified to foil the militant's plan.
Soon after the incident, BSF, army and police launched cordon and search operations in the entire border belt of Ramgarh sub-sector.
There is nearly 210 Kms of International border which runs from Malu in Akhnoor (Jammu district) to Pahpur in Punjab via Samba and Kathua districts.
While 201 Kms have been fenced with three-tier border fencing, as many as 198 Kms have been flood lit.
Image: File picture of a BSF soldier inside a bunker along the Indo-Pak border in Samba
Photograph: Amit Gupta / Reuters