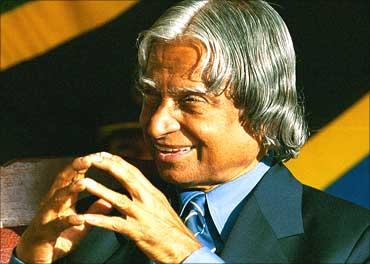 The Madras high court on Friday refused to vacate its interim order restraining the office-bearers of 'Abdul Kalam Vision India Party' from using the name and the pictures of late President A P J Abdul Kalam but allowed them to use it in individual capacity as a candidate.
Vacation court judge Justice M V Muralidharan, however, modified the May 6 last order to the extent allowing the office-bearers to use the name in individual capacity and not in the name of a political party since its registration and recognition was yet to be decided by the Election Commission.
Defendants permitted to use the name, figure, picture of Kalam in individual capacity as candidate and not in the name of the political party, the judge said in his order and posted the matter to June 3 for further hearing.
The court had earlier granted the ad-interim injunction on a civil suit from A P J Mohammed Muthu Meera Maraikayar, elder brother of Kalam, restraining the defendants from using the name/figurine/picture of Kalam as a part of the party name or in the flag of their political party or for any other political activity.
Ponraj, who worked as Secretary to Kalam, along with S Kumar and R Thirusenduran, formed the political party -- 'Abdul Kalam Vision India Party' on February 28.
Maraikayar submitted that they started the political party only with a view to encashing the love and faith the people of the nation reposed on his brother.
In the application seeking vacation of the stay, the office-bearers of the party said the court ought to have considered that the name of the political party was not a prohibited name or against the Constitution.
They further contended that the suit was not maintainable when the Election Commission and the Chief Electoral Officer issued election notification for Tamil Nadu Assembly 2016 and commenced the election process.