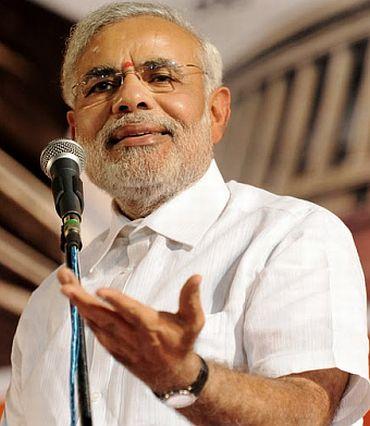 The Allahabad high court on Friday issued a notice to Prime Minister Narendra Modi on a petition challenging his election from the Varanasi Lok Sabha constituency in Uttar Pradesh.
Justice V K Shukla, while passing the order on the election petition of Congress MLA Ajay Rai, who had contested as the party's candidate from Varanasi, fixed September 5 as the next date of hearing in the matter.
Rai has alleged in his affidavit that Modi had left blank columns relating to his wife Yashodaben's PAN card details and her income, which violated Supreme Court's directions.
Rai has also alleged that though the Election Commission had laid down that a candidate in a Lok Sabha poll must not spend more than Rs 70 lakh during electioneering, crores were spent during Modi's campaign.
He has also alleged that T-shirts and caps bearing Modi's name and image were distributed among the people on a large scale, which was in violation of the Model Code of Conduct.
Rai, who is an MLA from Pindra assembly segment of Varanasi district, had finished third in the Lok Sabha election wherein he also ended up losing his deposit.
Modi, contesting his first election outside Gujarat, registered a stunning victory by defeating his nearest rival Arvind Kejriwal of the Aam Aadmi Party by a massive margin of nearly 3.71 lakh votes.