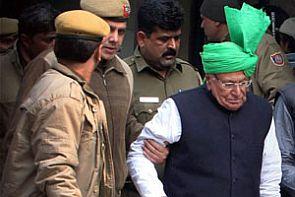 Indian National Lok Dal chief Om Prakash Chautala appeared in a Delhi court on Friday in connection with a disproportionate asset case.

Chautala turned up before Special Central Bureau of Investigation Judge Manu Rai Sethi in pursuance to his direction to remain present in court in person on Friday.

The 79-year-old INLD chief had moved the application on Thursday seeking permission to participate in the ongoing Haryana election campaign.

However, special public prosecutor Ajay Kumar Gupta opposed Chautala's plea saying he should not be allowed exemption from personal appearance as he is deliberately not attending the court proceedings.
The CBI also added that for many occasions in the recent past Chautala has been taking exemption on grounds either related to health or some other pretext.
The agency added that Chautala could not be given exemption to attend rallies as the court, while granting regular bail, had asked him to appear regularly during the trial.
Meanwhile, CBI on Friday moved an application seeking service of "court notice" issued by the Delhi High Court upon the accused, as he is deliberately ignoring it.
The court recorded evidence in the DA case.
Gupta also submitted that the court notice was issued to Chautala in junior basic trained teachers recruitment scam case on Thursday, directing him to appear before it on Friday at 10.30 am.
Allowing the CBI's contention, the court served the notice issued by the high court to Chautala, who assured his presence there.
The court served the notice to Chautala and informed him that is to appear before the Delhi High Court at 2.15 pm. The judge also noted in his order that notice has been duly served upon Chautala at 11.10 am. The matter before the court now stands adjourned till October 30.
The judge further added that in case the accused surrenders in respect of the pending appeal in high court, counsel for the accused will inform of the same to the court before October 20, so that production warrant can be issued for Chautala's presence before the court.
During the brief hearing, Chautala's counsel said they have no objection to receive notice before this court as his client has not avoided the summons.
The CBI had registered three separate disproportionate assets cases against Chautala and his two sons Ajay and Abhay, on a complaint by Haryana Congress leader Shamsher Singh Surjewala.
The CBI had on March 26, 2010 charge sheeted Chautala indicting him for allegedly possessing assets worth Rs 6.09 crore, far exceeding his legal income between 1993 and 2006.
Two such separate cases are also going on against Chautala's sons Ajay and Abhay.
Earlier, all the three cases were being heard in different courts and were transferred to one court on CBI's plea that all cases be transferred before a single judge as their trials at three different courts will lead to inordinate delay in concluding them.
In its charge sheet, the CBI had alleged that Chautala's wealth was 189 per cent more than his income of Rs 3.22 crore during the period.
The CBI had also said that Ajay possessed assets exceeding his legal income by 339.27 per cent. His legal income between May 1993 and May 2006 was Rs 8.17 crore, a number grossly disproportionate to the assets worth Rs 27.7 crore he had acquired during the same time, CBI alleged.
Abhay owned assets worth over five times his income of Rs 22.89 crore as per income tax records from 2000-2005. The agency claimed to have found Rs 119.69 crore worth of assets.
Chautala was sentenced to 10-year imprisonment by a Delhi court on January 22, 2013 for illegally recruiting 3,206 JBT teachers in the state in 2000.