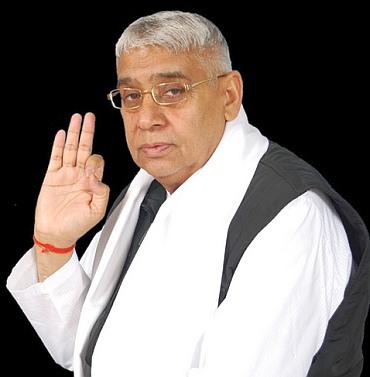 In more trouble for controversial godman Rampal, the Punjab and Haryana high court on Thursday cancelled his bail in a 2006 murder case, a day after he was nabbed, even as police flushed out more people from his ashram.
The 63-year-old, who kept Haryana authorities on tenterhooks for a fortnight and triggered a major law and order situation, was apprehended on Wednesday night in connection with non-bailable warrants issued against him by the high court for not appearing in a contempt of court case.
His supporters had clashed with security personnel leaving 200 people injured when attempt was made to arrest him on November 18. Six persons had also died and the cause of their death was being probed.
Rampal, who had refused to appear before the high court citing ill-health, was taken for a mandatory medical test at a government hospital in Panchkula on Thursday and all his health parameters were found to be "stable".
The high court had suo motu taken up the issue of cancellation of bail in the murder case on November 10 when Rampal failed to appear in the contempt case.
The bench comprising of Justices M Jeyapaul and Darshan Singh pronounced the cancellation of bail immediately after Haryana Advocate General and Station House Officer of Barwala police station in Hisar moved an application stating that Rampal had been arrested in a contempt of court case.
Rampal was on bail in connection with a case of murder registered in 2006 after a clash at his ashram at Kainthola in Rohtak district where one person had died and some others were injured.
The HC on Thursday ordered that he be arrested immediately in the murder case.
At his Satlok ashram in Barwala, followers were gradually coming out and claimed that they were being held hostage by the self-styled godman and his henchmen but Rampal claimed the allegations were false.
The court, which had earlier directed that Rampal be produced on November 21, accepted a Harya police application and asked it to produce him at 2 pm on Thursday.
Meanwhile, security personnel were treading with caution before launching a full-scale search at the ashram, spread in a 12-acre area, as they suspect some staunch supporters and members of his "private commandos" were still inside.
Authorities had slapped sedition and other serious charges against him and several of his followers following the violence.