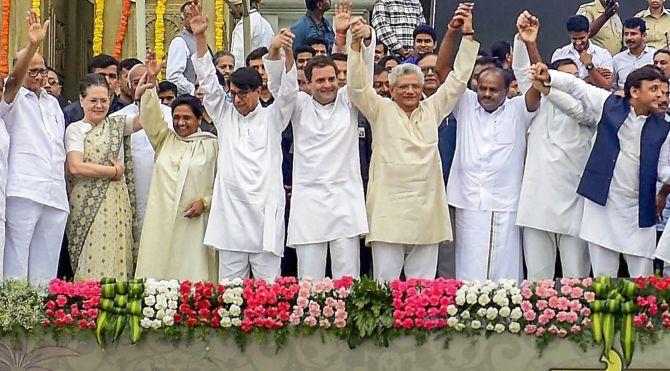 Prime Minister Narendra Modi has said the proposed grand opposition alliance is merely a 'grand race' by his rivals to be the prime minister and is driven by 'personal survival and power politics'.
In an interview to Swarajya magazine, he said the Opposition has no agenda except to remove him and that 'hatred for Modi' is their 'sole gluing force' as he expressed confidence that people will vote the Bharatiya Janata Party back to power in the next Lok Sabha elections.
In a swipe at the Congress, he said the main opposition party is fighting a battle for its survival (astitva ki ladai) and is now running from pillar to post looking for allies after people rejected its 'high-handedness'.
Ridiculing the Rahul Gandhi-led party, the prime minister said it is now like a regional party and cannot become a cementing force or anchor for any alliance of opposition parties against him.
Dubbing the next election a choice between governance and development on one side and chaos on the other, the prime minister cited the example of Karnataka, where the Congress-Janata Dal(Secular) alliance 'stole the mandate' to form government with 'development taking a back seat'.
"In any election, a non-ideological and opportunist coalition is the best guarantee for chaos," he said, describing Karnataka as 'a trailer of what is possibly in store'.
You would expect ministers meeting each other to solve development issues but in Karnataka they meet only to quell infighting, he said.
The BJP, he said, contests elections on the issues of development and good governance and the mandates it has received in state after state are historic.
"Hence, we are confident that people will repose their trust in us. They (Opposition) have no agenda except to remove Modi. Hatred for Modi is the sole gluing force for the opposition," he said.
Modi rejected the comparison of an opposition alliance with a similar alliance of the then Opposition in the 1977 and 1989 elections.
While the common motive in 1977 was to protect democracy following the Emergency, the Opposition joined hands 12 years later after the 'record-breaking corruption' of Bofors had hurt the entire nation, he said.
"Today, these alliances are not motivated by national good but they are about personal survival and power politics. They have no agenda except to remove Modi," he said.
The entire focus in the Opposition is on power politics with Rahul Gandhi saying he is ready to be prime minister while Trinamool Congress chief Mamata Banerjee is also eyeing the top post but the Left has a 'problem' with her, the prime minister said.
The Samajwadi Party, he added, thinks its leader more than anyone else deserves to be the prime minister.
"The whole focus is power politics, not people's progress."
"How long will the dislike and mistrust these parties and leaders have for each other keep them together? They are in direct bitter contests against each other in various states like West Bengal and Kerala.
"The last time these parties formed a government in Uttar Pradesh (in 1993), it could not even last two years. Such instability adversely impacts the growth trajectory of our nation," he said.
To a question on whether the BJP's allies are on the same page with it and if the National Democratic Alliance is weaker today, Modi asserted that his party views the alliance not as a compulsion but as an article of faith.
A large and diverse NDA is good for India's democracy, he said, adding that it is most important to respect regional aspirations and the NDA is committed to fulfilling them.
In the 2014 Lok Sabha polls, some people would ask if he can get allies even though the BJP was leading an alliance of over 20 parties, Modi said.
The BJP could have easily formed the government after winning a majority of seats but it took its allies along and made them a part of the new dispensation.
"The NDA is a large and happy family of over 20 parties. It is leading strong coalitions in various states of India. Which other alliance has such an impressive membership and is serving in so many states?" he said.
He also played down his party's losses in the by-polls, especially in Uttar Pradesh, saying the BJP had not done well in some local elections in Gujarat before the 1998 assembly polls but went on to win a two-thirds majority.
Regarding Kashmir, Modi said that the Centre's goal is to bring 'good governance, development, responsibility and accountability'.
'Recurrent terror attacks' that were common under the United Progressive Alliance rule are now history, Modi asserted while discussing wide-ranging issues of internal security, including Maoist violence and the situation in the North East.
"In Kashmir, our goal is good governance, development, responsibility and accountability," the prime minister said.
Jammu and Kashmir has been under Governor's rule since June 20.
Asked whether there would be dialogue with stakeholders in the state, he said the government had appointed an interlocutor who was in touch with many people.
"He is travelling to the interiors and engaging with people," Modi said.
Giving details of the security scenario in the country, Modi commended the 'brave' and 'eternally vigilant' security forces for ensuring peace as well as prosperity for 125 crore Indians.
"You can ascertain our security situation from the fact that recurrent terror attacks that were common under the UPA are now history. The numbers vis-a-vis Maoist violence in the last four years should make every Indian happy.
"Maoist violence has declined by 20 per cent in the affected states, with a concomitant reduction of 34 per cent in deaths in 2017 compared to 2013. Geographically as well, the influence of Maoist violence has shrunk substantially," he said.
Along with zero tolerance towards violence, the prime minister asserted, his government has also focused on a massive push to infrastructure and social empowerment to bring positive change in the lives of the poor living in Maoist affected regions.
About 4,500 kilometres of roads have already been built in 34 Maoist-affected districts, and about 2,400 mobile towers have been installed, he said. An additional 4,072 towers have been approved to enhance connectivity.
"When we assumed office, we got to know that there were no Kendriya Vidyalayas in 11 out of 35 districts most affected by Maoist violence. Eight new Kendriya Vidyalayas and five new Jawahar Navodaya Vidyalayas are imparting quality education to children," he said, citing development works done under his rule.
Maoist-affected areas had limited access to banks. But between April 2015 and December 2017, about 430 new bank branches and 1,045 ATMs were opened in 35 districts most affected by Maoist violence, Modi said.
When asked whether the area under Left Wing Extremism (LWE) had really shrunk, the prime minister said 44 of 126 districts have been removed from the list of Maoists affected areas.
"No area likes being called an LWE-affected area. It adversely impacts the psyche of the local population. Based on the changed ground realities, 44 out of 126 districts have been removed from the list of LWE-affected areas. These are those districts that did not see any violence for the last four years," Modi said.
Due to the government's policies, the push for development and zero tolerance for any violence, about 3,380 Maoists surrendered from 2014 to 2017. From 2010 to 2013, the number was around 1,380, he said.
"What can solve people's problems is not violence but development. And that is why, our approach (while having no tolerance for any sort of violence and disturbance) is to devote unparalleled resources towards the development of areas prone to violence," the prime minister said.
The security situation in the North East had also improved tremendously, he said.
"In 2017, we had the lowest insurgency-related incidents and casualties among civilians and security forces in the last 20 years! Tripura and Mizoram are virtually free from insurgency," Modi said.
In Meghalaya, the Armed Forces (Special Powers) Act was removed from all areas from March 31, 2018 and it remains in only eight police stations in Arunachal Pradesh, the prime minister said.
"We are leaving no stone unturned to protect our sisters and brothers of the North East. Police infrastructure is being strengthened across the region. Wherever needed, additional India Reserve Battalions are being raised."
Modi said his government wants to bring back 'misguided youngsters' to the mainstream.
"It is extremely anguishing when misguided youngsters are drawn to violence. We want to bring these youngsters back to the mainstream, so that they can contribute to the development of India.
"In the North East, there is the surrender-cum-rehabilitation policy. We revised the policy in April 2018 so that more youngsters who turned to militancy come back to the mainstream," he said.
According to the prime minister, north eastern states like Meghalaya, Arunachal Pradesh, Manipur, Mizoram and Tripura are also on broad-gauge map of the country.
"A few weeks ago, the first commercial flight in three decades reached Arunachal Pradesh. The road network is being expanded and waterways are being harnessed.
"An improved security situation combined with a push for development is convincing people about the perils of violence and instability. It is also fulfilling the aspirations of the youth of the state," Modi stated.
MIN