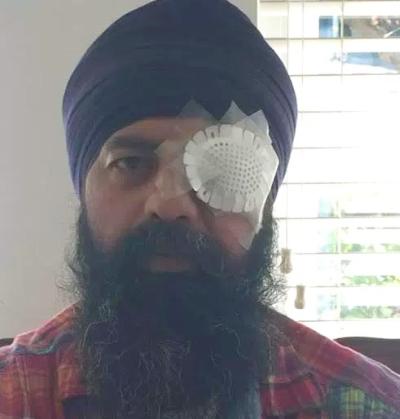 Hate crime charges have been filed by authorities against a group of men who brutally attacked a 41-year-old Sikh-American man, knocking off his turban and cutting his unshorn hair with a knife.
Maan Singh Khalsa, a father and IT specialist in California, said the charges against the men who attacked him are the first step to addressing violence and bigotry, which plague communities across the United States.
The Contra Costa County District Attorney's Office filed hate crime charges against Khalsa's attackers on Friday.
"The assailants violently targeted my Sikh faith. I am thankful to the Richmond Police Department and Contra Costa County District Attorney Mark Peterson for ensuring that my attackers were charged with hate crimes," Khalsa said in a statement issued by The Sikh Coalition.
Khalsa was driving home on the night of September 25 when a group of men in car threw a beer can at his vehicle.
When Khalsa questioned the men, they began abusing him.
Khalsa drove away from the scene but the men followed him and assaulted him through his open car window, knocking off his Sikh turban and hitting his face repeatedly.
Khalsa said there were "five to six white males in their late 20s to early 30s" who abused him and three of them then attacked him physically.
Shouting that Khalsa's hair should be cut off, the men pulled his head out of the window, and cut a fistful of his unshorn hair with a knife.
Khalsa had also sustained injuries to his fingers, hands, eye and teeth.
The Sikh Coalition, the nation's largest Sikh civil rights organisation, had written to the Richmond Police Department and the Contra Costa County District Attorney's Office on behalf of Khalsa, urging authorities to conduct a hate crime investigation and prosecution in the case.
Richmond Mayor Tom Butt said they do not condone such a crime in Richmond nor in America.
The Sikh Coalition said in the 15 years that have followed the 9/11 terror attacks, Sikhs remain hundreds of times more likely to be targeted in cases of profiling, bigotry and backlash than the average American.
"These hate crime charges ensure that the bias-based nature of the assault on Mr.Khalsa will be addressed during the prosecution," said Sikh Coalition Legal Director, Harsimran Kaur.
"The purpose of prosecuting bias-motivated assaults as hate crimes is not to impose harsher penalties. Instead, the purpose is to mitigate hatred in our society and ensure that we are all free to safely pursue the American dream regardless of our race, ethnicity, or religion," she said.