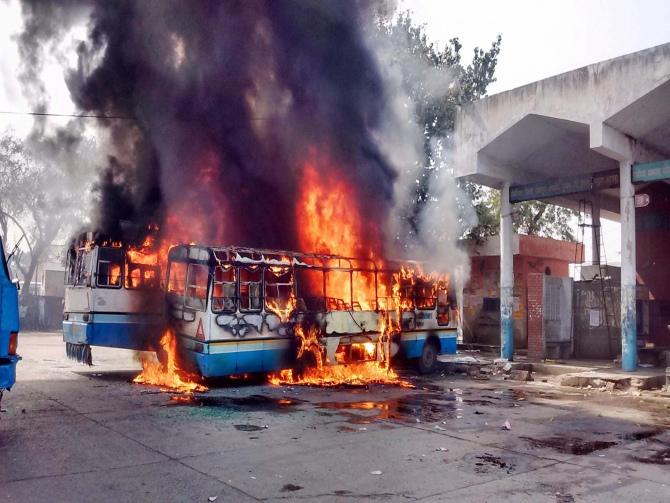 Haryana was again on the edge on Thursday with the 72-hour deadline set by Jats for resuming their agitation over quota from on set to come to an end on Thursday night.
Paramilitary forces and police were out in the sensitive districts and carrying out Flag Marches in various places as the 72-hour deadline given by various Jat organisations to the Bharatiya Janata Party-led Haryana government was coming to an end later on Thursday.
Various Jat organisations had on Monday threatened to resume their quota agitation, which rocked the state last month and claimed 30 lives, if the Manohar Lal Khattar government does not meet their demand by Thursday.
The Centre has sent 80 companies (about 800 personnel) of paramilitary forces to the state which are being deployed in sensitive areas like Rohtak and Jhajjar districts, which were the worst-affected during the first phase of the agitation last month.
The security forces personnel are also conducting Flag Marches to instill confidence among the public in view of large-scale arson and violence witnessed last month.
"We have already got the paramilitary force. The police is on the alert and we are making all arrangements (to maintain law and order)," IGP, RohtakRange, Sanjay Kumar said on Thursday.
He said additional police forces had also been arranged from within the state for deployment in the sensitive areas in and around Rohtak.
"We have made adequate police security arrangements. We have adequate force and we are deploying it accordingly," he said.
Asked about the situation in Rohtak, Jhajjar and some other areas worst hit by recent unrest, the IG said, "at present the situation is normal."
Reports said that authorities have stepped up security with deployment of additional security personnel in many towns, including Jind and Sonipat as the deadline issued by the Jat community to accept their demand for quotas ends on Thursday.
"The state government has time till March 17. So far, the government has not responded to any of our demands," said
Hawa Singh Sangwan, the president of the Akhil Bhartiya Jat Mahasabha.
"On March 17, we will decide on the next mode of action on whether to block roads, railway tracks or any other type of agitation," Samiti Chief Yashpal Malik said earlier even as he was not contactable on Thursday.
Malik had said the state government must bring a Bill in the ongoing budget session of the Assembly to ensure reservation for Jats.
Jat community members will resort to go on agitation ifthe state government failed to act on reservation issue.
Meanwhile, a bill to grant special Other Backward Classes status to Jats and four other communities to entitle them to reservations in government jobs and educational institutions is unlikely to be introduced in the state assembly on Thursday.
Official sources said there are some technical issues due to which the introduction of the bill is being delayed.
Some within the ruling party are stated to be opposed to introducing the bill under threat of Jat bodies, sources said.
Sports Minister Anil Vij in a tweet said, "Jat Reservation bill will be brought, but Jats must stop giving threats."
Jats are demanding 10 per cent quota in jobs and educational institutions, besides withdrawal of FIRs registered against the protesters, compensation to those killed during the stir and action against BJP MP from Kurukshetra Raj Kumar Saini for his anti-Jat reservation stand.
After pro-quota Jat stir led to large scale property damage, besides killing of 30 people, the BJP government last month buckled under the pressure and had announced that it would bring a Bill in the upcoming Budget session to provide reservation to Jat community along with other four castes-Jat Sikhs, Tyagis, Bishnoi's and Rors.
With state machinery including police administration completely paralysed during the violent Jat agitation last month, arsonists and mob had gone berserk and looted shops, commercial establishments, schools etc and later burnt them down.
Rohtak was the epicenter of violence that also engulfed several other districts like Jhajjar, Jind, Sonipat, and Kaithal.