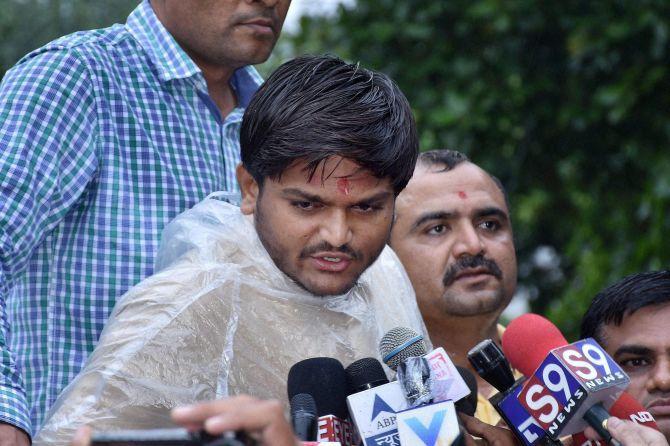 Patidar Anamat Andolan Samiti convener Hardik Patel talking to the media after he was detained while trying to take out his Ekta Yatra from Varachha Road in Surat on Saturday. Photograph: PTI
Patel community leader Hardik Patel was arrested in Surat tonight for defying prohibitory orders clamped ahead of his Ekta March for reservation under OBC quota but was freed on bail by a court soon afterwards.
Hardik's arrest triggered sporadic incidents of violence and protests, though much lesser in scale and intensity compared to last month's incidents when the widescale strife marked the protests by the community members, leading to death of ten persons.
The government for its part banned mobile internet services across the state to curb possible rumours and tackle law and order.
Hardik and 35 of his supporters who were detained from Varachha area in Surat earlier in the day were produced before a magistrate in Surat who granted them bail on a personal bond of Rs 1,000 each, following which he was released late tonight.
An FIR was lodged against Hardik for violating prohibitory orders, police said.
"We have arrested Hardik Patel. An FIR was registered against him under section 188 for violation of prohibitory orders," said Surat Police commissioner Rakesh Asthana.
Hardik's arrest sparked protest in Rabari Colony and Bapunagar area in Ahmedabad where a mob tried to block the national highway number 8.
"A few incidents of sporadic violence were reported in Ramol, Nikol and Bapunagar area but those were not serious in the nature," DCP Sweta Shrimali told PTI.
In Ramol area in Ahmedabad, members of Patel and Rabari communities clashed prompting police to lob two rounds of teargas shells to disperse the mob, said police inspector P I Solanki.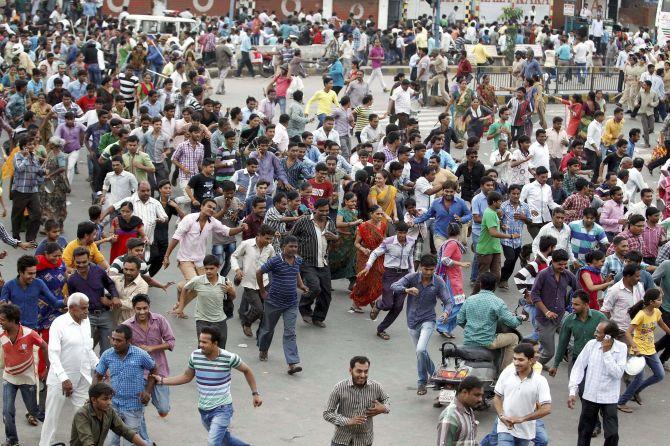 People from Patidar or Patel community run for cover after police use baton charge to disperse the crowd protesting against arrest of their leader Hardik Patel, demanding reservation in Ahmedabad on Saturday. Photograph: PTI
"Women of Patel community were protesting against Hardik's detention. Despite numerous appeals for peace, they first hurled stones at us and then indulged into heated arguments with the youths of Rabari community, which soon resulted in a clash between the two communities," said Solanki.
In Kamrej and Kapodara area of Surat, a scuffle erupted between the police and members of public but nobody was injured.
In Botad town of Saurashtra region and in Surat city, incidents of vandalising the state transport buses were reported, said President of Gujarat State Road Transport Corporation (GSRTC) Pankaj Kumar.
Following the protest, ST buses heading towards Junagadh, Rajkot and Surat districts were halted for some time to avoid any damages of property and public life, Kumar said.
Patel community members had earlier blocked roads in Navasari, Morbi, Mehsana, Amreli and Jamnagar districts.
Meanwhile, Chief Minister Anandiben Patel said no community has been meted out with any injustice by her government and warned of appropriate action if anybody takes law in their hands.
"The development of Gujarat became possible because the state has been witnessing social peace from year 2001," she said addressing a programme at Mandvi in Surat.
Hardik had earlier accused the government of muzzling voice of his community.
He had till on Friday kept his plans secret about the Ekta Yatra after being denied permission to hold it from Dandi to Ahmedabad, before police thwarted it on Saturday.