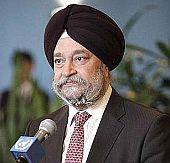 Indian ambassador to the United Nations Hardeep Singh Puri has been elected Chairman of the all important Security Council Committee on Counter-terrorism and two other key committees of this 15-member body.
A formal announcement in this regard will be made on Wednesday, sources told PTI after the conclusion of silent procedure during which there was no challenge to India being elected as chairman of these three important United Nations Security Council committees.
Elected for a two-year term, Puri would chair the UNSC Counter-Terrorism Committee. He replaces Ertugrul Apakan, ambassador and permanent representative of Turkey, whose term expired on December 31, 2010.
Guided by Security Council resolutions 1373 (2001) and 1624 (2005), the Security Council Counter-terrorism Committee works to bolster the ability of United Nations member states to prevent terror acts both within their borders and across regions.
It was established in the wake of the September 11 terror attacks in the United States. The Indian Ambassador has been elected as chairman of the Working Group of the UN Security Council on individuals, groups or entities involved in or associated with terrorist activities and possible compensation for their victims, established by its resolution number 1566 of 2004.
The post was again vacated by the Turkish ambassador. Puri has been elected as chairman of the Security Council Committee concerning Somalia and Eretria established by resolutions 751 in 1992 and 1907 in 2009.
The post was earlier held by Mexico. Informal discussions of the Security Council were held yesterday to discuss and finalise the agenda and programme of the 15-member body for January.
Bosnia and Herzegovinian hold the monthly rotating presidency of the UN Security Council. The first formal meeting of the UN Security Council is scheduled to be held on Wednesday.
India, which joins the Security Council after a gap of 19 years, has said counter-terrorism would be its top priority during its two-year term.
"One of our major pre-occupation is the issue of terrorism. I expect that in the coming months we would have to address that issue through the work of the Council," Puri had said earlier.

"You can expect India to play a very active role in that. This committee deals with issues like building capacities, normative rules dealing with counter-terrorism and dealing with India that is a major area of interest," the ambassador said.

"I am not suggesting that this is something that we would do immediately on that is starting immediately as we start the work of the council. But in the coming months, we would give a very high priority to this one," he said.
Image: Hardeep Puri
Photograph: Rediff archives