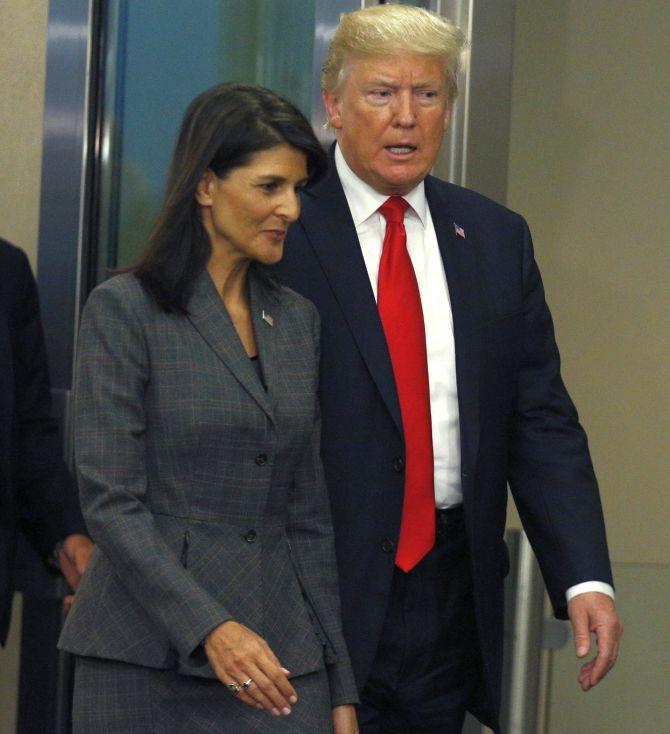 United States Ambassador to the United Nations Nikki Haley has termed as "disgusting" and "offensive" online rumours suggesting she is having an affair with US President Donald Trump and said such insinuations fit a pattern of attacks on successful women.
The online speculation was instigated by 'Fire and Fury' author Michael Wolff, who dropped hints on HBO's 'Real Time with Bill Maher' last week when he said he was "absolutely sure" Trump is having an affair -- just not sure enough to write about it in his book.
Wolff went on to say that discriminating readers would be able to determine the president's paramour by giving his book a close reading.
Haley, 46, married for 22 years and the mother of two children, in an interview with Politico, said the rumours were "absolutely not true."
She also said she's never talked once to the president about her future and that she is never alone with Trump.
"So the idea that these things come out, that's a problem," the Indian-American diplomat said.
"But it goes to a bigger issue that we need to always be conscious of: At every point in my life, I've noticed that if you speak your mind and you're strong about it and you say what you believe, there is a small percentage of people that resent that and the way they deal with it is to try and throw arrows, lies or not," she said.
In his bestselling book "Fire and Fury," Wolff wrote that Trump had been spending "a notable amount of private time with Haley on Air Force One and was seen to be grooming her for a national political future."
That led to online scrutiny of Haley.
This is not the first time Haley has had to deal with false claims of an affair, something she said is an attack frequently made against women.
"I saw this as a legislator. I saw this when I was governor. I see it now. I see them do it to other women," she said.
"And the thing is, when women work, they prioritise, they focus, and they believe if you're gonna to something, do it right," she added.
Haley before becoming the UN ambassador was the first woman to be elected governor of South Carolina and the second Indian-American governor in US history.
Image: Nikki Haley said she's never talked once to the president about her future and that she is never alone with Trump. Photograph: Brendan Mcdermid/Reuters