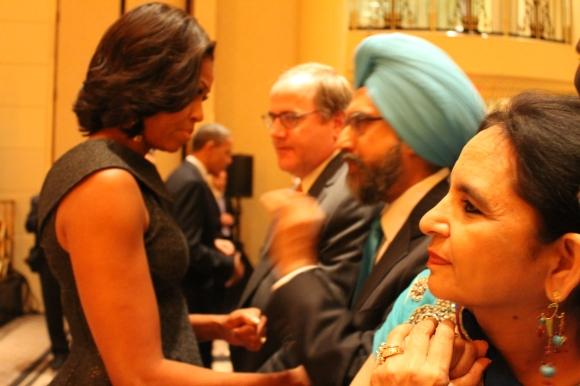 Dr Rajwant Singh, an influential Sikh American community leader, met President Barack Obama and First Lady Michelle Obama to personally thank them for their deep concern and unstinted support in the wake of the horrific massacre of Sikh worshippers on August 5 at a gurudwara at Oak Creek, Wisconsin by white supremacist and neo-Nazi Wade Michael Page.
 
Singh, a dentist from Maryland, is the founder and president of the Sikh Council on Religion and Education and longtime executive director of the Guru Gobind Singh Foundation gurdwara in Maryland.
He conveyed the deep gratitude of the Sikh American community at a White House reception he and his wife Dr Balvinder Kaur were invited to, hosted by the President for diplomats and United Nations ambassadors at the Waldorf-Astoria hotel on September 24, on the eve of Obama's speech to the United Nations General Assembly.
 
"We thank you deeply for your kindness and your support during the tragedy at the Sikh gurudwara in Wisconsin. We really appreciate it," he told the President.
Obama responded by saying, "It was needed and more to come and you can be assured of that."
 
Singh has been a regular in interactions with White House officials -- both in the George W Bush and Obama administrations -- on issues of racial profiling and hate crimes against Sikhs post the 9/11 attack.
After the carnage in the Wisconsin gurudwara by Page, Singh appeared on CNN and other media outlets to explain what Sikhism is all about.
He then told Obama, "We prayed for you and will continue to pray for God's blessings upon you," to which the President had quipped, "I need that every day."
 
Kaur, a child psychiatrist who practices in Washington, DC, told Obama, "Mr President, we are grateful that you lowered the US flags at half staff".
Obama reiterated, "It was a senseless killing and it should not have happened".
 
The couple also thanked the First Lady on behalf of the Sikh community, with Singh telling her, "Your visit to Wisconsin to see the families of the victims was really healing for all of us. It was gratefully appreciated by all Sikhs."
 
Michelle Obama had replied, "I was touched by sentiments and spirit of the families, especially the youth. They are all so kind."
 
Singh said he had requested Michelle Obama to prevail upon her husband to meet some Sikhs and be seen with them because that would "send a positive message all across the nation."
 
He had suggested that "perhaps he (Obama) can have a delegation at the White House or he can visit a Sikh centre," to which she had said, "We certainly will work on it."
 
Singh also had an extended interaction  with Valerie Jarrett, the President's senior-most political adviser and close confidante ever since his Chicago state Senator days, about future initiatives to help the issues of Sikhs in the US.
 
"She assured us of the support of the President and his administration," Singh said.
Image: Dr Rajwant Singh with his wife Dr Balvinder Kaur and First Lady Michelle Obama