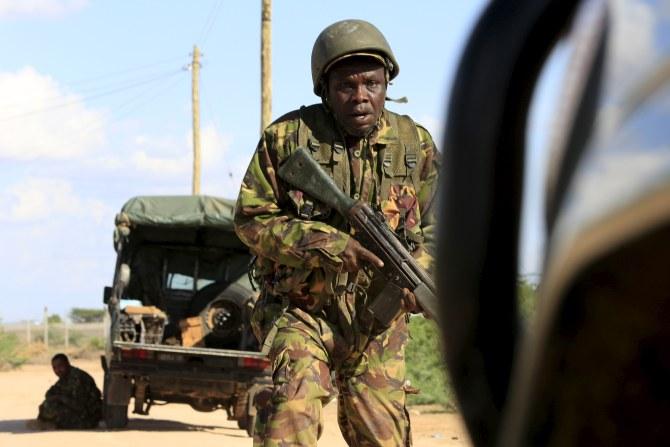 A Kenya Defense Force soldier runs for cover near the perimeter wall where attackers were holding up. All photographs: Noor Khamis/ Reuters
As many as 147 students have been killed after an Islamist group attacked a university in northeastern Kenya, according to officials. According to them, all four AK-47 carrying gunmen have been shot dead and the rescue operation is over. This is the country's deadliest attack since the American embassy bombings in 1998.
More than 500 students have been rescued. The school has 815 students.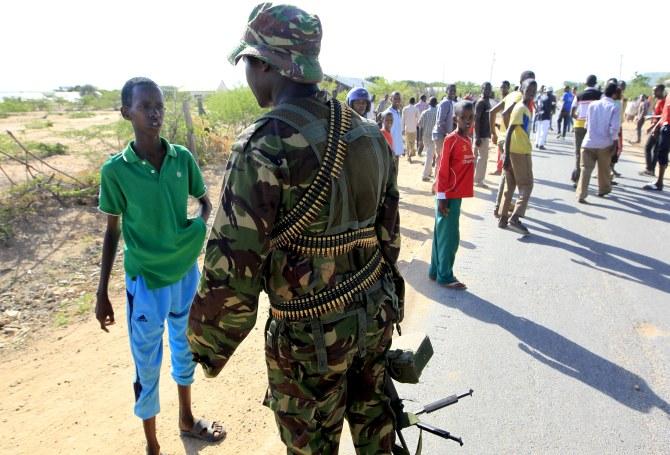 A Kenya Defense Force soldier stops a boy from moving in the direction where attackers were holding up.
The Somalia-based Al Shabaab militant group claimed responsibility for the attack, saying it was revenge for Nairobi's troops fighting in Somalia.
The masked gunmen began the assault before dawn, using grenades to blast open the gates of the university in the northeastern town of Garissa, near the lawless border with war-torn Somalia, before attacking students as they slept.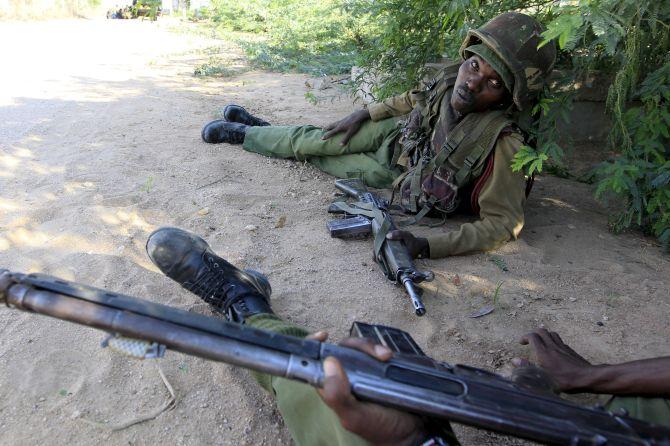 A Kenya Defense Force soldier takes cover near the perimeter wall where the attackers were holding up.
At the time the attack started, morning prayers were underway at the university mosque.
Kenya's National Disaster Operations Centre said that some of the more serious wounded were flown in to Nairobi, the capital.
"All the incoming patients have bullet and (shrapnel) wounds," said a Garissa hospital official.
Police statistics show that 312 people have been killed in Al Shabab attacks in Kenya from 2012 to 2014. Thirty-eight people were killed and 149 wounded in Garissa in the same period, according to police statistics.
When notices were posted on April 1 on the university campus of possible danger, some students reportedly believed it was an April Fool's Day prank. "As it was April 1, we just thought that it was fooling," one student said, according to the Washington Post.
Meanwhile, India strongly condemned the outrageous terror attack, saying the international community needs to further strengthen its fight against terrorism."India strongly condemns barbaric terrorist attack on a university campus at Garissa in north-eastern Kenya," the external affairs ministry said.
The "Government of India strongly condemns the barbaric terrorist attack on a university campus at Garissa" in north- eastern Kenya in which scores of people are reported to have been killed, it said in a statement.
"We stand in solidarity and sympathy with the bereaved families and the injured, and convey our heart-felt condolences to the Government and people of Kenya," it said.