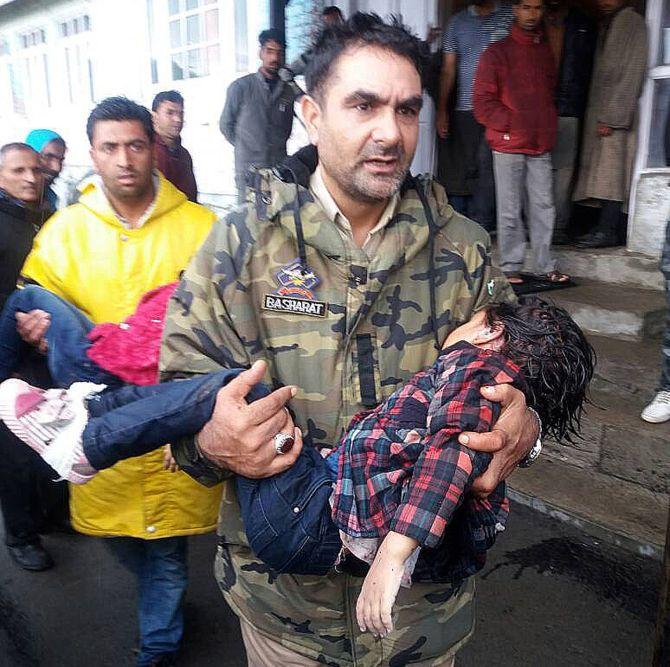 Four members of a Delhi family and three tourist guides were killed when a cable car came crashing down after a ropeway snapped in midair in the skiing destination of Gulmarg today, police said.
A tree, uprooted by strong winds, fell on the ropeway of Gulmarg Gondola, an official said. It severed the lines and the cable car plummeted to the ground, the official said.
Four of the deceased belonged to a family from Delhi's Shalimar Bagh, the official said. They have been identified as Jayant Andraskar, his wife Manisha Andraskar and their two daughters, Anagha and Janhvi.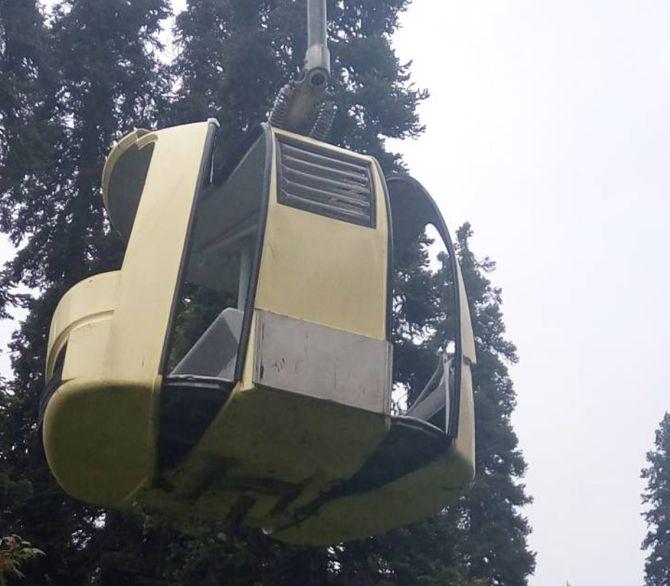 Three people from Kashmir -- Mukhtar Ahmad, a resident of Chonti Patri Babareshi, and Jahangir Ahmad and Farooq Ahmad Chopan, both residents of Tangmarg -- were also killed in the accident.
Two others, Tariq Ahmad and Ajaz Ahmad, both residents of Pachhar, were injured and were taken to a hospital in Srinagar.
All the five locals were said to be working as tourist guides in Gulmarg in north Kashmir's Baramulla district.
An official of the cable car company said about 100 people, who had used the ropeway, were stranded and rescue efforts were on.
"We are resuming the ropeway to rescue the 100 people who have been stranded. We are also ready with the manual rescue operation," said Riyaz Ahmad, general manager of the Jammu and Kashmir State Cable Car Corporation, which runs Gulmarg Gondola.
Former Jammu and Kashmir chief minister Omar Abdullah questioned why the cable car service had not been shut down as a precautionary measure because of high winds.
'What terrible news,' he tweeted. '...it begs the question as to why the cable car operations weren't suspended in high winds. That's a laid down SOP [standard operating procedure],' he posted on Twitter.
Tragedy hits holidaying Delhi family
'Feeling peaceful' with Manisha Andraskar, was the last message that friends of Jayant Andraskar saw on his Facebook page before tragedy struck.
The Delhi couple and their two young daughters -- Anagha and Janhvi -- were among seven who met a tragic death Gulmarg.
The Andraskars, residents of Shalimar Bagh in north west Delhi, had gone to Kashmir for holidaying.
One of their daughters was a class I student while the other was in playschool, according to one of their relatives, Sourabh.
The couple had gone to Kashmir on June 22, he said.
"The last time we talked, they spoke about Kashmir," said Sourabh told PTI.
The family hailed from Nagpur but had come to Delhi as Jayant was working in a Delhi government department, he said.
Photographs: Umar Ganie/Rediff.com