Gujarat Chief Electoral Officer Anita Karwal tells Rediff.com's Prasanna D Zore about the amazing ways state electoral officers boosted voter sentiment, and the likely reasons behind the high turnout in the first phase of the assembly election.
An exclusive interview!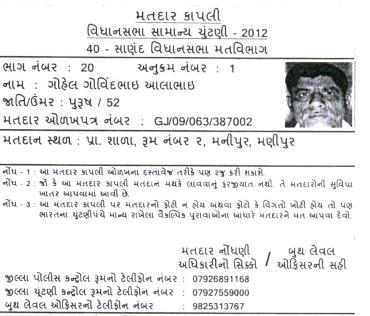 The Gujarat assembly election may be the most watched and most discussed state election in years thanks to the many heated debates and speculation by Gujarat Chief Minister Narendra Modi's supporters and detractors.
The first phase of the Gujarat election, held on December 13, made headlines for reasons that had nothing to do with Modi or his prime ministerial ambitions.
The first phase recorded a more-than-impressive voter turnout of over 67 per cent, surprising even political pundits.
While the Modi camp went to town declaring that the turnout proved the chief minister's popularity, the real magicians behind this miracle -- the Election Commission and Gujarat's electoral officers -- have had no time to rest on their laurels as they have had to prepare for the second phase on Monday.
In an exclusive interview with Rediff.com's Prasanna D Zore, Gujarat Chief Electoral Officer Anita Karwal reveals the amazing ways state electoral officers boosted voter sentiment, and the likely reasons behind the high turnout in the first phase of the assembly election.
What explains such a high voter turnout in the first phase of the Gujarat election on December 13?
We like to give credit to the fact that we embarked on a huge voter awareness campaign initially for registration. And then we received an unprecedented response from the voters.
More women than men registered.
When we did our special summary revision in the months of June to August 2011, 590,000 males and 640,000 females registered in nearly 25 days.
We followed that with a huge campaign called Systematic Voter Registration for Electoral Participation.
We identified low voter turnout polling stations from the last elections and did targeted intervention there by engaging people with Bhawai (a kind of Gujarati folk drama) and calling people for evening meetings and addressing them all over the state.
Then we started with a programme that gave Sankalp Patras (a pledge to vote in elections) to the students of primary and secondary schools that said that 'Papa and Mummy have taken care of my education and now they will take care of India's democracy by pledging that they will vote during elections.'
We distributed 81 lakh (8.1 million) Sankalp Patras and got 71 lakh (7.1 million) back by December 10 duly signed by these students' parents.
After that we started with the photo voter slip programme, raising the momentum to a crescendo.
I think the photo voter slip became a huge contributory factor in increasing the polling percentage because that became the voter's identity document. It had the address and location of the voter's polling station.
And it also had three telephone numbers so that the voter could call for help in case there was any kind of intimidation and there would be an immediate response.
How many calls of voter intimidation did you get on these numbers?
I wouldn't know because the numbers are with the polling stations, booth level officers and the control room of the collectors. We did get lot of calls asking if the voters would be eligible to vote after 5 pm. The rule says that whoever is standing in the line at 5 pm is allowed to vote.
Also, we repeatedly advertised through various media outlets that if you don't get it in your house, then voters could come to their polling stations and collect their duplicate photo voter slips from there.
Just take it and go out to vote.
The last thing that the (Election) Commission did was looking at the many chores that women perform in a household.
We made two females go in and vote after every man, thereby saving their time so they could go back to their routine without disturbing it.
The female queue was made speedier.
We will be following all these systems in the second phase. In the last elections, there was a 5 to 5.5 per cent difference between male and female voting. In the first phase, we managed to bring down this difference to 3 to 3.5 per cent.
We feel there has been a surge in female voting.
These are the reasons we are attributing for the high voter turnout.
What kind of human resources did you employ for such a vast exercise?
I am still collecting the figures, but the number of people deployed at and inside the polling stations, including the state police force, was nearly 163,000.
This does not include the central police forces and it does not include mobile employees like bus drivers, conductors, cleaners etc. But the data is still trickling in and I will be able to have a clear picture by December 18.
How have you prepared for the second phase of polling?
(We have made) Absolutely similar preparations that we had in place for the first phase. We have more than sufficient central police forces.
We have transported the majority of state police forces from phase one to phase two polling locations.
We will also ensure that all politically vulnerable and critical polling stations are manned by the central forces.
How many critical and vulnerable polling booths have you identified for the second phase of polling?
These are approximately 30 to 35 per cent of all polling stations.
How do you identify if a particular polling station is critical or vulnerable?
Identifying a polling station as critical is based on the statistics of previous elections depending on whether there has been a re-poll, high or low turnout, any conflict outside the polling stations.
The Election Commission of India's Web site has all the information about what a critical and vulnerable polling station means with proper vulnerability mapping that explain these terms.
Vulnerability mapping is done by our central officers who are allocated eight to 10 polling stations.
They speak with a large number of voters in small hamlets and villages to find out if they feel intimidated or have faced intimidation during, before or after polling by any person or persons.
Those persons are identified and preventive action is taken against them. But even after taking preventive action, since they come on our list, we deploy central police forces at such stations and make arrangements for intense mobile patrolling of such booths.
Image above: A photo voter slip used in the Gujarat election.
Part 2 of the interview: Gujarat: How technology is being used for a fair election