Real time monitoring of all the 23,000 booths where polling takes place in Gujarat on Monday will ensure a free and fair election, state Chief Electoral Officer Anita Karwal tells Rediff.com's Prasanna D Zore.
Part I: The SECRET behind Gujarat's super voter turnout!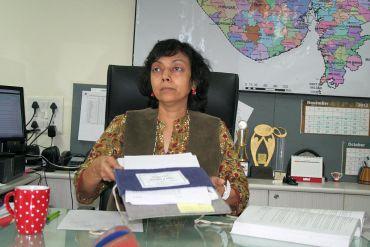 Apart from the armed police personnel, technologies like Web streaming, Webcasting and SMS monitoring will play a crucial role in ensuring free and fair elections in the second phase of polling that is underway in Gujarat on Monday.
Chief Electoral Officer Anita Karwal told Rediff.com at her office in Gandhinagar that additional 20,000 security personnel has been deployed by the Centre and state together.
"With 600 mobile patrolling vans in each of the polling districts and real time monitoring of all the 23,000 booths where polling is taking place will ensure free and fair elections," Karwal said.
About 30 to 35 per cent of the polling booths in the 95 assembly seats have been identified as being sensitive by the Gujarat Election Commission. "You will see state and central forces engaged in joint patrolling and their visibility will be as much as it was in the first phase," Karwal added.
A sneak-peek into how the Gujarat Election Commission, that has employed 320,000 officials under Karwal, will ensure an incident-free election.
Voter turnout
"I hope phase two is inspired by phase one. The photo voter slips have reached the houses of voters and we are hoping that combined with voter awareness programmes it should ensure a good voter turnout," Karwal said.
An unprecedented 70.75 per cent turnout was registered in the first phase of the Gujarat assembly election on December 13.
Tackling irregularities
"Pre-poll," Karwal said, "there is a very elaborate way of identifying vulnerable and critical booths. Intimidators are identified and a lot of contact programmes are done with the help of sector officers who are in constant touch with people in vulnerable hamlets."
On polling day, December 17, these booths will be visited at least twice by the sector magistrate and his team.
In addition, central police forces are deployed at these polling booths. "Efforts have been made to ensure there is no intimidation and voters come out and vote without any fear," Karwal added.
Monitoring polling in real time
Web streaming technology has been used by the Election Commission in recent elections.
The Gujarat Election Commission used Web casting for the first time in the 2009 Lok Sabha election; it was used in some of the most sensitive polling booths in Panchmahals, Dahod and Ahmedabad districts. The experience was very good and hence, the Election Commission decided to expand it to all districts in the state this time.
"We are also using an SMS monitoring system through which we are able to directly connect to each and every polling booth and get information from them every two hours. We have the GIS (Geographic Information System) mapping of all the polling stations on the Election Commission's Gujarat Web site. We have tried in our own way to use technology to ensure free elections," Karwal said.
How this technology will help the Gujarat Election Commission
Karwal feels that giving voters maximum information will boost their confidence. "They have full information about where they are registered, their voting and polling booth location. They know that vulnerable locations are being watched and the response time to any untoward incident will be very quick. We feel it is a confidence building measure," she added.
In a related development that deals with the Congress violating the Model Code of Conduct by holding a press conference in Ahmedabad, Karwal said, "It has come to our notice and we will look into it. We have a system by which we can carry out video surveillance. We will go through it, examine it and then decide our course of action."
She, however, refused to reveal what kind of action could be initiated against violators if the Gujarat Election Commission gets proof of any violation.
Karwal quoted Section 126 of the Representation of People's Act that prohibits such action on the part of any political party.
"The Representation of People's Act says that no person can convene or hold or attend or join or address any public meeting or procession in connection with an election in the 48 hours before the conclusion of polls. In the light of this provision, we will take a call on it," she said.
Karwal said she had not received any written complaint from the Congress about Bharatiya Janata Party candidate Amit Shah from Ahmedabad's Naranpura area staging a campaign procession in his constituency a day before polling.
"We haven't received any complaint from the Congress. I believe it might have been received at the returning officers' level," she said. "We will have to look at it. I cannot comment on it before I see the fax."
Photograph: Gujarat Chief Electoral Officer Anita Karwal at her office in Gandhinagar. Photograph: Prasanna D Zore/Rediff.com
Gujarat Assembly Elections 2012: Complete Coverage