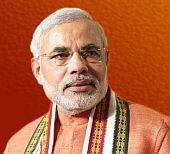 Gujarat Chief Minister Narendra Modi, who returned from Russia two days back, tested positive for swine flu on Friday, a doctor attending on him said.


Modi is being kept in isolation for seven days at his residence, where a team of doctors is attending on him. All his public functions have been cancelled.
Health Minister Jainarayan Vyas told rediff.com, "The chief minister is responding well to treatment. He is awake and cheerful."

Vyas said, "A highly professional and efficient medical facility has been set up by the health department inside the CM's house in Gandhinagar and best treatment is being made available to look after him."


"There is nothing to worry. His health is not serious. Everything is absolutely under control. We have found the virus at an early stage and the best professionals of Gujarat are treating him. So there is nothing to worry," he added.


Vyas informed that it was difficult to say how Modi got infected with H1N1 since 'incubation' of the virus takes 48 hours and its symptoms emerge after another 5 to 10 hours. So it was not possible to locate the source of infection.


The Health minister said while the first medical bulletin was issued on Friday morning the next will be issued in the evening at 6 pm.


Modi returned from Russia on October 28 but by evening he was feeling uncomfortable.

The following day, doctors advised him to test for swine flu. By late afternoon, he tested positive and immediately a panel of doctors was formed to start the treatment. Dr Atul Patel, Ahmedabad's well-known virologist, heads the panel of doctors.

Other doctors in the team include Dr R K Patel, head of the U N Mehta Medical Centre, Professor Kamlesh Upadhyay, Dr Paresh Vora and Dr Asha Shah, dean of the Post-Graduate Medical College.
Interestingly, the state health department had recently urged the Union Health Ministry to remove the sole swine flu screening centre at the Ahmedabad international airport.
Screening stalls were introduced at the airport early July. However, not a single swine flu case was isolated in the state from this centre even after 1.75 lakh people flew into the city via various flights, media reports said.
In India, 463 people have died due to the Influenza A (H1N1) virus. When reports last came in, the number of people affected with the virus in the country stood at 13,722.

Additional Inputs: Press Trust of India