Shatrughan Sinha and Kirti Azad certain to be axed along with Union minister R K Singh and former minister Rajiv Pratap Rudy.
M I Khan reports from Patna.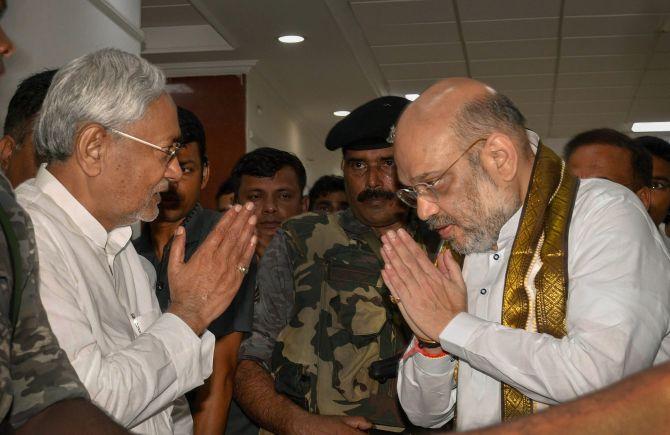 There is a buzz in political circles in Patna days after Bharatiya Janata Party President Amit Anilchandra Shah announced that the BJP and the Janata Dal-United will contest an equal number of seats in the Lok Sabha election from Bihar next year.
Under the seat-sharing formula, the BJP is set to deny tickets to half-a-dozen sitting MPs.
Prominent among the BJP MPs who may be refused a ticket are actor-turned-politician Shatrughan Sinha and cricketer-turned-politician Kirti Azad. Both Sinha and Azad are almost certain to be denied a ticket for openly criticising the party leadership.
Union minister R K Singh and former Union minister Rajiv Pratap Rudy may also not be re-nominated.
Sinha represents the Patna Sahib Lok Sabha seat in Patna, his home district. Azad is an MP from Darbhanga.
The BJP MPs from Sasaram (Chhedi Paswan), Valmikinagar (S C Dubey), Jhanjgarpur (Birendra Kumar Chaudhary), Muzaffarpur (Ajay Nishad) and Maharajganj (Janardan Singh Sigriwal) are also likely to be denied a ticket. These seats may be contested by the JD-U in 2019 under the seat-sharing formula.
All these seats are traditional JD-U strongholds and were held by the party in the 2004 and 2009 Lok Sabha elections when the BJP was a junior partner of the JD-U in Bihar.
"The BJP has no option. It has to sacrifice its five or six MPs to give Nitish Kumar's JD-U an equal number of seats," a senior BJP leader told Rediff.com.
According to BJP sources, under the seat-sharing formula, the BJP has agreed to contest 16 to 17 of Bihar's 40 Lok Sabha seats.
The JD-U will get an equal number of seats while other National Democratic Alliance partners -- Union Minister Ram Vilas Paswan's Lok Janshakti Party and Union Minister Upendra Kushwaha's Rashtriya Lok Samata Party -- will contest 5 and 2 seats respectively.
LJP and RLSP leaders have repeatedly said they will not contest fewer seats than what they had contested in 2014. The LJP then contested 7 seats and won 6 while the RLSP contested and won all three seats it contested.
LJP leaders have said they would not given up the seats they hold while the RLSP is said to be keen on contesting more seats than it did in 2014.
Speculation is rife that the RLSP may join the Grand Alliance led by Lalu Prasad Yadav's Rashtriya Janata Dal if it does not get more than three seats to contest.
The BJP contested 30 seats in 2014 and won 22. The party had planned to contest 25 seats in 2019 as repeatedly claimed by senior BJP leaders in view of its growing strength in Bihar.
In 2014, the JD-U, which contested on its own, won only two seats -- Purnea and Nalanda.
Nitish Kumar, JD-U leader Spokesperson Neeraj Kumar asserted, has once again proved that he is the face of the NDA in Bihar.
"It was a big setback for (our) opponents who were busy propagating that the BJP will not give more than 7 or 8 Lok Sabha seats to the JD-U on the ground that it had won only two seats in the 2014 election," Neeraj Kumar said.
"In 2014, the BJP fielded 30 candidates. This time it will contest from half the number it had contested the last time," Neeraj Kumar said.
JD-U leaders point out that in the 2009 Lok Sabha election when the JD-U was part of the NDA, it had contested 25 seats and won 20 while the BJP contested 15 seats and won 12.
But JD-U leaders forget that in 2004, when the JD-U and BJP contested the Lok Sabha election together, both fared poorly. The JD-U contested 24 seats and won 6. The BJP contested 16 seats and won 5.