For those who have had enough of fashion, clothes, models, celebrities, make-up and accessories, here is a look at the people behind the scenes.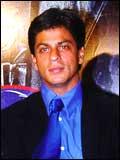 rediff.com spoke to some Security and Personal Security Private Limited personnel. SPS is the company in charge of providing security at the India Fashion Week 2003, which is being held at the National Centre For Performing Arts, Mumbai, from July 18-24.

Security guards admit they are thoroughly enjoying their eight-hour duty. Says Pravin Kumar (not his real name), "We definitely should have events like this. So many people come here, there is so much effort going into all this. People are well-dressed and there are so many important people here."

It is a good feeling being amongst beautiful people. But fashion is an alien concept for them. "I don't know anything about fashion. I don't have any idea who the designers and models are. We watch some fashion shows on the television, but I don't know anything about this event. It is just another event for us," he says.

But the people who make the rules can often be very rude. "There was a lady who had come from Delhi and was trying to get into the venue. I did not allow her because she did not have an identity card. Those are my instructions," says guard Rakesh Verma (not his real name).

The woman then told him she had couriered her photographs and form well in advance so her accreditation card could be made. Unfortunately, the officials didn't seem to have received them.

"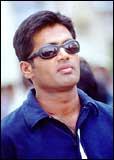 As she had come all the way from Delhi," says Verma, "I went and asked the officials to look into her case. But he asked me to tell her to go back. I think that is very rude."

The guards say they have to undergo thorough physical training and are trained in how to speak to people, how to salute, etc. Becoming a security officer is much easier if you have done some technical course or have studied until the tenth standard, says another guard.

"But there is not much respect in this line," says one of them.

Their last contract, he recalls, was at a Mumbai discotheque. Film stars Shah Rukh Khan and Jugal Hansraj had come over one day.

"Some of us went over to them to get autographs. But both of them were so rude and refused to sign our autographs. What's more, Jugal Hansraj complained to senior officials that the guards were trying to harass Shah Rukh Khan. After that, we stopped taking autographs.

"In fact, Shah Rukh Khan is quite rude. He does not allow anyone to come anywhere near his home," says one of the guards.

All of them are unanimous about the one film star they do like: Suneil Shetty. "I really like him. He is so nice to people," says Verma, with a wide smile.
Have you checked out...
'Sabyasachi is a genius'
Priyadarshini Rao: Feminine, elegant, wearable
The Ritu Kumar Collection
What models do to relax?