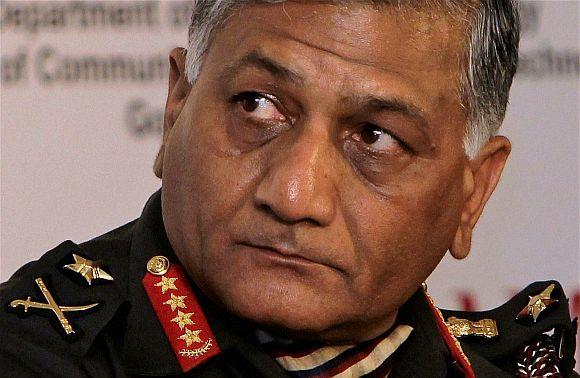 India should mount a "strong response" to Pakistani firing across the Line of Control and increased border incursions by China, former Indian Army chief Gen (retd) V K Singh as said.
"If the message you convey is, 'OK you can do what you want to, but we are not going to react to it,' then (they) will keep doing more things," Singh told PTI in Washington.
Responding to a question on recent incidents of firing by Pakistani troops across the Line of Control in Kashmir and an increase in border incursions by China, Singh made it clear that India needs to give a "strong response to such efforts".
"See, as far as the LoC with Pakistan is concerned, it has its own dynamics, a lot of things happen. But along with it, it is also a question of what kind of messages you convey," he said.
"Everybody knows that Pakistan is waging a proxy war against us and if the terrorists are not able to infiltrate and they do other things along the LoC, then a much stronger message is required," said Singh, who is currently on a visit to the US with anti-corruption crusader Anna Hazare.
"Where China is concerned, China respects strength and strong will. If you try to adopt policies which were adopted in the 1950s then you are going to land in trouble," he said. "At the governmental level there has to be a much stronger response. Only then people will realise as to why a thing should be done, or should not be done," Singh said.
There is great scope for cooperation in defence technology between the two sides and things will move at a faster pace if Indian military officials are given a greater role in talks with the US, Singh told PTI in an interview.
Relations between India and Pakistan soured after five Indian soldiers were killed in an attack along the LoC on August 6. Since then, both sides have accused each other of violating a 2003 truce on the ceasefire line. India has accused Chinese troops of several violations of the disputed border in Ladakh sector.
Noting that the US is a hub of technology, Singh said there is so much that can be shared in the armament, aviation and naval sectors that it can ensure great economic benefit to the US and technological benefit to India.
"I think there is some reservation in the US on sharing this technology with India. I think it is to mutual advantage of both countries," he said.
India is looking at technology, and not hardware. "It has got great capabilities, especially the private sector in India, to manufacture anything, provided the technology is available," he said.
Singh claimed the Indian system dominated by bureaucrats is preventing "real military-to-military" talks between India and the US and, as a result, the real potential of defence ties between the world's two largest democracies is not being realised.
"One of the problems the US finds is that there are a lot of areas which require military-to-military talks, but the Indian system only permits a babu (bureaucrat) to talk to the US military," said the former army chief, currently on a visit to the US with anti-corruption crusader Anna Hazare.
As a result, the defence relationship is not progressing at the pace it should, he said. "They do not understand each other. It becomes a dialogue of the deaf. That has to be sorted out," Singh said.
Things cannot be seen only through "political or administrative lenses", he said. Strongly arguing the case for creating a permanent post of chairman of the joint chiefs of staff on the lines of the system in the US, Singh said India requires such a set-up.
"A one-point contact is not there. There is a great amount of effort that is made to instigate one service against another service, so that they can keep fighting among each other," he claimed.
Singh, the only Indian general to be inducted into the International Fellow Hall of Fame at the prestigious US Army War College, pushed for strong defence ties between the two
sides when he headed the Indian Army during March 2010-February 2012.