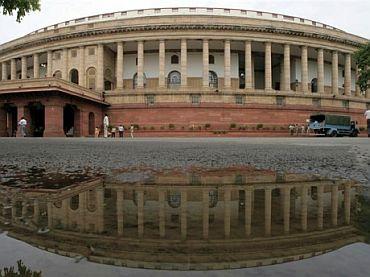 Government will make a fresh bid to pass crucial bills on GST and real estate in the last week of the Winter session.
The legislative and financial business proposed next week includes a discussion on the issue of price rise in both Houses with emphasis in Rajya Sabha on rising price of essential commodities, including foodgrains in the country.
A discussion is also likely on the issue of "growing intolerance endangering the unity and diversity of the country".
While six bills each have been passed and introduced in Lok Sabha, the Rajya Sabha has passed only one bill.
10 Bills passed by Lok Sabha are still to be taken up in Rajya Sabha. In the Lok Sabha, Government has proposed to take up nine items of legislative and financial business during next week, a statement by parliamentary affairs ministry said.
Of these, time has been allotted for seven items. A heavy agenda of 16 items is due to be taken up in Rajya Sabha which lagged behind Lok Sabha in transaction of business this week due to disruptions and forced adjournments.
Four hours have been allotted for the passage of the GST bill, three hours for Real Estate bill and two hours for anti-graft measure, the Whistleblower Bill.
Prospects of a forward movement on GST appeared in sight on Friday with the government giving some proposals to the Congress and expecting a response by Monday when Parliament meets again with just few working days left for the Winter Session to conclude.
A meeting of Congress leaders is being held on Sunday in which the party top brass will take a call on the proposals, which could pave the way for the passage of the GST bill.
External affairs minister Sushma Swaraj, who travelled to Pakistan on December 8, is also expected to make a statement on Indo-Pak ties in Parliament on Monday.
"Swaraj will make a statement on her recent visit to Islamabad and developments relating to ties between India and Pakistan in both the Houses of Parliament during the next week of Winter session of Parliament.
"This is one of the major agenda items for next week," a release by the ministry of parliamentary affairs said.
The government has put the GST Bill and Real Estate Bill on top of its legislative agenda in next eight days of Winter Session.