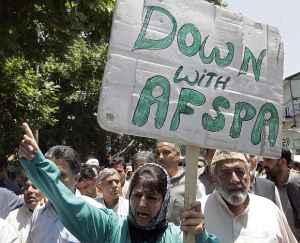 The Narendra Modi government is understood to have ruled out changes in the controversial Armed Forces Special Powers Act in Jammu and Kashmir and favoured its continuation in the present form in the state.
The decision in this regard is understood to have been taken at a meeting of the Cabinet Committee on Security headed by the prime minister recently, sources said in New Delhi.
The CCS discussed changes suggested by the Administrative Reforms Commission, they said.
The army had also given its opinion in the matter and had opposed the repealing or dilution of the law in any form and stated that it was required for it to operate in the state, sources said.
Even though Jammu and Kashmir has been relatively peaceful in the recent past except for the ceasefire violations along the Line of Control, the army feels that it is more of "absence of violence" rather than establishment of peace there.
Several groups and political parties in Jammu and Kashmir and north eastern region have been demanding either repeal or amendment to the AFSPA which has been in force in some of the disturbed regions in the country.
Defence Minister Arun Jaitley had also visited Jammu and Kashmir to analyse the situation in the state and had visited the forward locations there.
He had stated that any decision on revoking AFSPA will depend on the progress in the situation in the state over a period of time.
On the need for AFSPA, Army Chief Gen Bikram Singh had stated that it was "an enabling" act as it "gives army additional powers to operate in an environment which is marked by very high degree of uncertainty and complexity and an asymmetric environment where you cannot differentiate between a friend and a foe as the terrorist merges with the backdrop and hides amongst the locals."
Image: President of People's Democratic Party Mehbooba Mufti carries a placard during an anti-AFSPA protest in Srinagar
Photo: Reuters