Government institutions and pharma industry are examining if a 'cocktail' approach to making a multi-variant Covid-19 vaccine works against multiple strains of the ever-mutating virus, reports Sohini Das.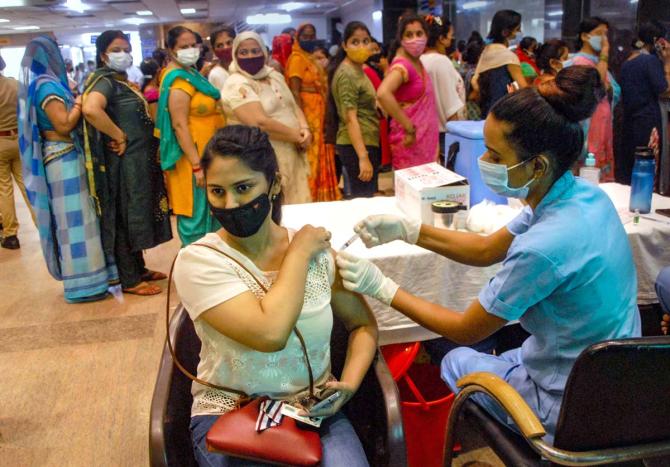 India is working to develop an umbrella Covid-19 vaccine, just like the multi-variant flu shots in the market.
Government institutions, along with the pharmaceutical industry, are examining if a 'cocktail' approach to making a multi-variant Covid-19 vaccine works against multiple strains of the ever-mutating virus, a senior government official told Business Standard.
While the official did not divulge details about the institutions involved in the project, he said the government was partnering with the industry.
"The product is not ready yet; it is under development. This will take some time. Once the product is ready, it will go for clinical trials," the official said.
He said basic science institutions, the pharma industry, and industry-academia collaborations were working to develop the new-generation Covid vaccine.
"This is a scientific effort, and ongoing," the person said.
According to sources in the industry, there are two approaches to this -- one is developing vaccines using a strain different from the Wuhan one, for example, the Delta variant; and second, to mix two strains and see whether that gives a better coverage and has better neutralising capacities.
Ahmedabad-based Zydus Cadila, for example, is trying to develop a Delta variant vaccine for its already-approved DNA-plasmid Covid vaccine.
It is also testing whether a multi-variant vaccine can be developed in the laboratory.
Speaking to Business Standard, Sharvil Patel, managing director of Zydus Cadila, said, "We are making a Delta variant construct, and we will test that variant to see whether it works to neutralise the Delta variant better, and potentially other variants also."
He added that if the Delta variant construct proves to neutralise several variants better than the current Wuhan strain, then in the future the vaccine can be upgraded with the genetic sequence from the Delta variant.
Patel said that apart from this, there was a second approach.
"We put two variants in one vaccine -- a mixture of the Delta and one more variant. This is like the flu vaccine shots where three or four flu strains are part of the same vaccine. However, all this research is still very preliminary, and I do not think that we have anything in sight anytime soon. To have something practically would take at least five to six more months," he said.
Theoretically, each vaccine platform can be changed, but for some vaccine platforms, like recombinant ones (mRNA and DNA platforms), the change is relatively easier.
One is only changing the genetic sequence (of the virus strain), and not changing anything else that is part of the construct.
Also, the mixing of sequences is not possible for all platforms, pointed out one industry source. It is possible to develop multi-variant vaccines on the inactivated virus vaccine platform like Bharat Biotech's Covaxin.
However, research is needed to see how things work out.
"Every time we change, we are inactivating a live virus, and every inactivation is different. The way one inactivates the Wuhan strain may not be the same as one inactivates a different strain," the source explained.
For recombinant vaccines like mRNA or DNA, the process is relatively simpler.
Here, one changes the genetic sequence of the Wuhan strain with whichever strain one wants to. For virus-like particle technology vaccines (Novavax or Biological E) also, this is possible.
There is no data today on whether mixing two strains in the same vaccine gives better results.
Industry sources said United States majors Pfizer and Moderna might be working on this approach already.