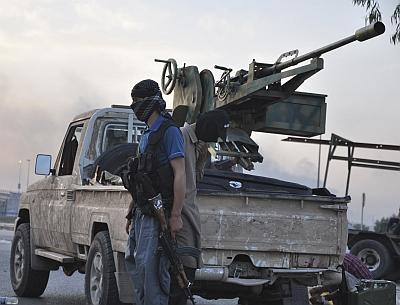 The government on Tuesday said it was in touch with the Indian nurses stranded in violence-hit Tikrit town in Iraq and assured "every possible help" to Indian citizens in the trouble-torn country.
Following a request by the Indian government, a team of International Red Crescent contacted around 46 nurses in Tikrit and reported back to the Indian authorities about their wellbeing, sources said.
The Indian Mission is also in touch with the Iraqi government and the United Nations Assistance Mission in Iraq to ensure the safety of all Indians stranded in the violence-affected areas of that country, they said.
Asked whether the government was considering evacuating the nurses from Tikrit, they said the roads are not suitable for any movement at present.
The government had on Sunday asked Indians residing in Iraq to consider leaving the country in view of the "precarious" security situation. In an advisory, the government had also asked people not to travel to Iraq.
Strongly condemning the violence in Iraq, the government on Monday said it was "deeply concerned" with the deteriorating security situation in that country resulting from recent attacks and taking over of some cities, including Mosul and Tikrit, by terrorist outfits since June 8.
"The safety and security of the Indian nationals currently in Iraq remains a matter of serious concern for the Government of India," it said.
Terming the attacks a "direct threat to the security and territorial integrity" of Iraq, the ministry of external affairs said India remained strongly committed to the "emergence of a stable, peaceful, united and democratic Iraq" which is in the interest of regional and global peace.
"The Government of India strongly condemns such attacks and firmly stands by the government and people of Iraq in their fight against international terrorism and in their efforts to preserve the unity and territorial integrity of the friendly country of Iraq," it said.
The Indian embassy in Baghdad has already set up a 24- hour helpline to offer assistance to Indian nationals there. Over 10,000 Indians are estimated to be currently living in Iraq.

Meanwhile, four nurses from Dharmagiri near Udhgamandalam have communicated to their families that they are safe in a hospital in Baghdad.
Namitha Mathews had called her family over phone around 9.30 pm on Monday and said she and three others from the village -- Cini Wilson, Sily Bose and Neelu Thomas, were safe in the hospital where they were working, her father Mathews told reporters.
They had been asked not to venture out and stay put in the hospital itself, he said.
However, the family of two other nurses from Salivayal near Dharmagiri, about 75 km from Udhgamandalam, was waiting for their calls, according to Sai Dhanya, sister of one of the nurses.

Image: Fighters of the Islamic State of Iraq and the Levant stand guard at a checkpoint in Mosul, Iraq. Photograph: Reuters