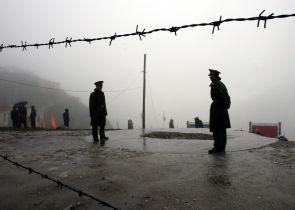 "Even though the first Sino-Indian war took place in 1962, the Chinese incursion had started taking place in 1957. The government knew it but it did not inform the public. After five decades, the same thing is happening as the Chinese incursion has been taking in Aksai Chin for long, but we have woken up now," said Ram Pradhan, former Union home secretary and former governor of Arunachal Pradesh.
Pradhan, who delivered a lecture on India-China relations in Pune on Thursday, said that because of complexity of the border issue with China and given the political situation in the country, there seems no speedy resolution to the matter and it is better to move forward by keeping this issue "on the shelf".
The lecture was organized by Pune-based NGO, Sarhad.
Pradhan, who was involved in the border row discussions since 1963 and was governor of Arunachal Pradesh when the famous Sumdorong Chu valley episode took place in 1986, said, "Prime Minister Jawaharlal Nehru and intelligence officers knew about the Chinese building roads near the border in 1957 but they did not act. When the matter was raised in Parliament, he accepted the fact in 1959. In 1962, full-fledged war broke out. The same thing is happening now in Daulat Baig Oldy sector. People were not informed of the issue and even now nobody knows what the exact situation on the spot is. We have to trust government of India in whatever it says."
He said, "The seeds of this dispute is in a declaration made by Republic of China way back in 1910 which said that Tibet, Turkstan and Mongolia were intrinsic part of China. On the other hand, India did not receive a marked and clear border with China when it got Independence in 1947. The British rulers were more concerned with keeping Russia at a bay and hence left the borders in this region ambiguous.
"There is a resolution passed by Parliament of India which said that not an inch of land will be given to China and Nehru made a statement that 'McMohan line' will be our border with China, map or no map'. Hence, the real discussions are impossible. Added to it is Pakistan's role in giving land in Pakistan occupied Kashmir to China. All these factors have made the resolution of the dispute very difficult."
Pradhan also said that India did not act on the formula suggested by then Chinese leader Deng Xiaoping. He said, "Deng suggested in 1978 to settle the matter once and for all on the basis of actuality and Line of Control. It meant keeping Arunachal Pradesh with us and giving Aksai Chin to China. However, the subsequent governments did not act on the formula and now, as China looks at itself as an emerging superpower, it has retracted on that formula and want the settlement of the dispute according to its wished."