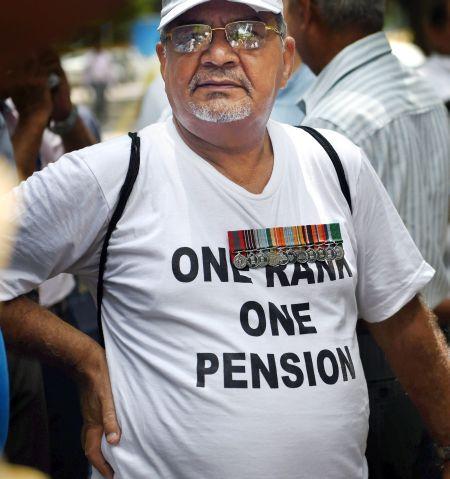 The government on Monday announced that it has credited revised pensionary benefits along with arrears under One Rank-One Pension scheme to more than 2 lakh pensioners drawing service and disability pensions.
As to the more than 1.46 lakh family pensioners, the government will credit the new benefits by the end of this month, the defence ministry said in a statement.
"The Defence Pension Disbursing Offices under the Controller General of Defence Accounts... have released revised pensionary benefits to 2,21,224 defence pensioners drawing service/disability pension.
"The amount along with first installment of arrears has been released and credited to the accounts of these pensioners on March 1, 2016," the statement said.
In the case of the remaining 1,46,335 family pensioners drawing pension from DPDOs, payment along with arrears is expected to be released by March-end, it added. The banks are processing the revised pensions, it said.
These steps are pursuant to a Department of Ex-Servicemen Welfare notification of November 7 last year ordering implementation of the OROP scheme for defence pensioners.
The total additional annual financial increase for grant of the OROP is Rs 7,488.70 crore. The total amount on account of arrears to be paid for the period July 1, 2014, to December 31, 2015, is Rs 10,925.11 crore.
Of the total annual liability of Rs 7,488.70 crore, PBOR (people below other ranks) family pensioners shall get Rs 6,405.59 crore, which works out to 85.5 per cent of the total OROP expenditure, the statement said.
Due to the increase in the defence pension budget, the additional liability for current financial year 2015-16 shall be Rs 4,721.34 crore, which increases the current defence pension liability from Rs 60,238 crore to Rs 64,959.34 crore for 2015-16, it added.
Detailed implementation orders of OROP with 101 tables containing revised pensions for the different ranks and categories were issued by the Department of ESW on February 3 on its website, www.desw.gov.in.
According to the orders, the pension disbursing agencies have been authorised to make payments with arrears as scheduled.