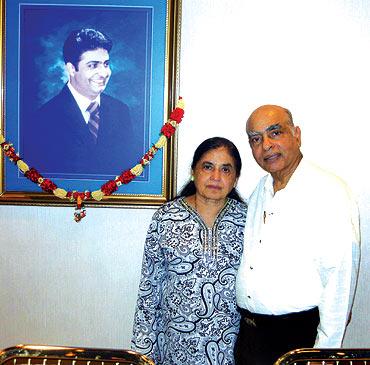 Silence replaced the laughter at Rajesh Mirpuri's home when 9/11 took him a week before his birthday, finds George Joseph
Rajesh Mirpuri was just a week short of his 31st birthday when tragedy struck. Had he been alive, the Mirpuri home would have been filled with laughter and maybe even the voices of grandchildren. That place is now taken up by silence, occasional phone calls and visitors.
The home in Englewood Cliffs, New Jersey, remains the same way as he had left it on the morning of September 11, 2001, except that his pictures, all garlanded, now hang on the walls in several rooms. Ten years of living without their only child is written large on the faces of Arjan and Indra Mirpuri, who seems to have forgotten to smile.
They are reluctant to speak to the media, just like most relatives of the victims. When I coax them, saying the media is unlikely to come to them after this, at least not for another 10 years, Arjan is philosophical.
Arjan: Who knows who lives 10 years more or what all things will happen in the meantime. Only one thing is for sure that we all have to go from here. Some go early, some late.
Dada J P Vaswani, their spiritual guru, has comforted them, asking them to surrender to the will of god and take comfort in that. They follow his advice.
Arjan says, "We would have been in worse shape, but because of blessings from Dada J P Vaswani, we have been able to carry on with life. We are on a spiritual path that is helping us move forward. Rajesh also spent lot of time with our guru, talking to him, asking him questions about religion. Our guru loved him too."
After Arjan retired from his import business, the Mirpuris have been keeping busy, interacting with friends and family all over the world, and working for the Sadhu Vaswani Center in Closter, New Jersey.
New Jersey has been home for the couple - who were uprooted from Sindh in 1947 - since 1978.
"We moved to other parts of the world for business and settled there. In November 1978, we moved from Kew Gardens, New York, to Englewood Cliffs, New Jersey. Rajesh met and made some good friends in our neighborhood; they used to go to school together and play together," he says.
The Mirpuris were always a close-knit family, with Rajesh at the center of it. And he was a son who appreciated it.
"Rajesh weighed only 5lbs when he was born, but with Indra's hard work he became a very cute and chubby boy in three months. He always had a million dollar smile on his face. A smile that always stayed on his face, till the day he died," Arjan says.
After he started working, he was traveling a lot on business and holidays. Whenever he would go to places like Bombay, Japan, Hong Kong, Singapore and Jakarta, he would call us, saying, 'Dad, I am missing you so much. These places remind me of us being together and spending a wonderful time together over here. I love you, dad, and miss you both.' When I think of these words of his, it becomes very hard to control my tears.
Rajesh graduated from the Dwight Englewood School in Englewood and studied business management at the Leonard N Stern School of Business, New York University. He went on to become vice president, Data Synapse, Manhattan.
Rajesh didn't work at the WTC, but on 9/11 -- he had returned home just a day earlier after a holiday in Spain with friends -- he was on the 106th floor of the north tower for a conference with three colleagues.
Arjan: Every morning before leaving for work, he would come to our room, touch my feet, kiss me and go down to his mother. Indra would cut fruits and give them to him at the door when he was ready to leave. He would kiss her and touch her feet for blessings. Indra always asked him where he was going to be that day. September 11 he was in a rush and she did not ask him where he was going.
"Rajesh left home saying goodbye as usual. There was nothing exceptional about that morning, says Indra.
What happened on the 106th floor was reconstructed using phone calls and e-mail messages from those present, especially at the Windows on the World restaurant. Early on, Rajesh called his office, coughing, and said he could not see more than three meters, his boss Peter Lee would remember.
He also called his home. Stuart Lee, another vice president at Data Synapse who was present at the conference, began to exchange e-mails with his office using his BlackBerry after the first plane struck.
At 9:17 am he wrote: 'We're more or less trapped in one of the offices on 106th floor. Window faces West. Everywhere else is smoked out. Any news from the outside?'
A minute later, Peter responded: 'Who is with you?' Stuart said, 'I've been on the phone with Raj, then got cut off… We have called the police and spoken directly with people there. There is a team heading to 106 floor.'
But the police could not save them.
"We were home when a friend called and told us to switch on the television as planes had attacked the World Trade Center. We were very shocked to see what was happening. After a while a tower started falling. We were surprised to see such a strong building fall. Then while the second tower went down," says Arjan.
"At about 11.45 am, we got a call from Rajesh's boss, Peter. The first question I asked was, 'Where is Rajesh?' He said, 'In the World Trade Center.' I felt like I was losing the strength from my body. The next question I asked was, 'Which floor?' And he said, 'The 106th floor.' I felt like life had drained out of my body. I was unable to speak. Lee said, 'Please don't panic. We have to wait to get proper information. Maybe he has come out," says Arjan.
Rajesh was the only Englewood Cliffs resident to die in the attacks. The town has erected a bench in the park in his honor.
"No one will ever forget Rajesh's smile. He was a gem that lit up any room he walked into. Our family dearly misses him," says Anju Advani, a cousin.
"Rajesh loved life and tried to enjoy every moment life had to offer. His ambitions in life and a sheer love to grow were accompanied by a temperament and personality that appreciated people," says Anju Chainani, a friend from Secaucus, New Jersey.
Anthony Dadlani, a friend from New York City, said, "Rajesh was a childhood friend, a brother. It's been 10 years since the tragic loss. I can still remember our many moments together as if it was yesterday. There were tons of adventures, experiences and trips that we shared. One of my fondest memories is of a weekend we spent in Vermont."
"He was studying at the University of Vermont and had invited me up there in the middle of winter. Although the weather was harsh and the drive up to Vermont from my home in Connecticut (then) was laden with weather-related incidents, looking back it was such a great youthful experience with him… He had organised a college keg party. How I wish those days could come back... He is truly forever missed," he adds.
Rajesh's zest for life translated into many pranks. One that his parents will never forget was in the summer of 1996.
"In December 1995, his then company, Reuters, sent him to Japan for about seven months. This was the first time he was going away from us for a long time. Usually his trips used to be for a week or two. I didn't want to let him go; it was very hard for me to be without him for such a long time. Even if he would come late in the night, I
used to get very restless and would keep calling his cell phone," says Arjan.
"We had told him that no matter what time he got home in the night, regardless of whether we were awake or sleeping, he had to see us and then go to his room. If we are still awake, he would sit and talk to us. We can never forget those moments," he adds.
"In June 1996, when he was in Tokyo, he said he was coming home for about 15 days, but wanted to visit Hawaii before that. Around 7 pm June 20, he called us to say he had reached Honolulu," says Arjan .
"It was our wedding anniversary, and we had called a couple home for dinner. Around 7.30 pm, the doorbell rang. I was shocked to see Rajesh at the door. I hugged him hard and became very emotional. He made us even more emotional when he said, 'How can I not be present for your wedding anniversary? I always want to be with you on this day'," he adds.
Knowing his pranks and hoping against hope, his parents kept the lights on outside for him on 9/11, thinking that he would turn up suddenly at night. This time he didn't.
"The three of us always travelled together. I used to think that if we were ever in an accident, we should die together, so that no one would worry about the other. But, God had something else in mind. He separated us. It is still very hard for us to believe it," says Arjan.
For the 10th anniversary of 9/11, his family and friends came together at the Sadhu Vaswani Center -- the Mirpuris have used the compensation amount to help others and work with this center -- instead of being present at Ground Zero.
Seema Mahtani, a cousin from Hong Kong says,"The memories are countless. Not a day goes by when I don't think about him. It's still hard to believe what happened, and that he's really gone. It's been the hardest for uncle and aunty, with Raj being their only child."
"We have all tried our best to keep their spirits up and spend time with them, but nothing we do can ever replace him or the pain they are going through. Over the years we will grow old. He will always remain forever young, handsome and with the charismatic smile - just as we remember him before  9/11," she adds.
Rani Daryanani, an aunt from Curacao said, "Death is not the greatest loss in life. The greatest loss is what dies inside us while we live. If you ask anyone what they remember of Rajesh, everyone has one answer. He was always happy, always smiling and full of life."
"For me he was all this and much more; he was very loving, very caring and would go out of his way to make you happy. I remember when my son Aakash was seven he would ask Rajesh to take him to play golf everyday when he got back from work. Since he was working through the day he could not take him. Finally one night he said this is it. He told all of us to get into the car at 12 am and drove 45 minutes to take us golfing," she adds.
"He never kept a Christmas tree at home, but my kids said, 'Bhaiya, we cannot have X'mas without a real tree.' Three days before X'mas we woke up to someone honking away. We looked out and saw Rajesh in the driveway with a huge X'mas tree tied to the hood of his car and him standing next to it with a big beautiful smile. He was more excited than the kids. I can go on with beautiful memories of my baby, right now all I can say is: Good men must die, but death cannot kill their names," she says.
"His ambitions never kept him from enjoying the things he loved. Raj always lived life to the fullest. Living just outside New York, Raj enjoyed everything the city had to offer. He appreciated good food, good clothes, and good music. He enjoyed an evening out with friends and family," Arjan adds.
"In the winter he loved to ski; in the summer he loved to golf, and anytime in between, he could be found rooting for the Knicks," he adds.
"His death has been the biggest shock in our lives. It is not easy to bear. We had so many dreams of him getting married, having children. He used to love children, he also dreamed about having a family. We had planed to go to India in 2002 to get him married, but God had other plans. We are moving around, but we have no life in our body. He was our life," he says.
Image: The Mirpuris with a photograph of Rajesh