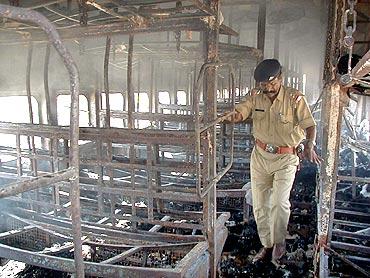 An accused in Sabarmati Express train burning incident who was absconding since 2002 was arrested by the Godhra Local Crime Branch (LCB) in Gujarat's Panchmahal district on Friday, police said.
Farookh Mohammad Dhantiya (45) was nabbed by the LCB on a specific tip off from his residence near Issac mosque in Signal Falia area near Godhra railway station this morning, sub-inspector of Godhra LCB, H B Zala, said.
"Dhantiya has been on the run after the incident that took place on February 27, 2002. Recently, we learnt that he is living at Signal Falia in Godhra and was nabbed this morning. He will be handed over to the Special Investigating Team (SIT), formed to investigate the incident for further probe," said Zala.
Dhantiya is the third 'wanted accused' in the case to be arrested by the Godhra LCB in the recent past.
Earlier, on July 16, LCB had nabbed one Kadir Abdul Gani from Godhra town and handed him over to SIT, while one Hussain Suleman Mohan (35) was held from Jhabua in Madhya Pradesh on July 23.
As many as 58 people had died when the S-6 coach of Sabarmati Express was torched at Godhra railway station on February 27, 2002. The incident had triggered large scale riots in the state in which around 1,000 people, mostly of a minority community, were killed.
A court in February 2011 had convicted 31 persons in connection with the incident. Out of the 31, 11 were awarded death penalty, while 20 were sentenced to life term.