According to a report, global populations of mammals, birds, fish, amphibians and reptiles have already declined by 58 per cent between 1970 and 2012.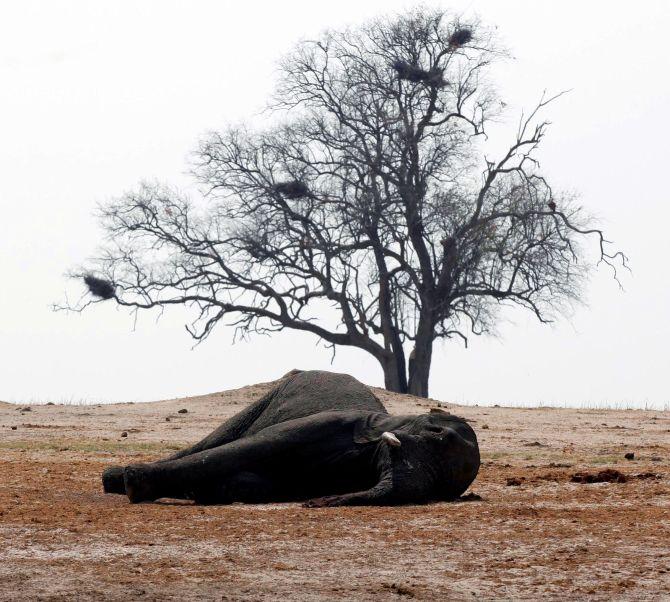 IMAGE: A bird flies near the carcass of an elephant, which was killed after drinking from a poisoned water hole, in Zimbabwe's Hwange National Park. Photograph:
Philimon Bulawayo/File Photo/Reuters
As much as two-thirds of the global wildlife populations may be wiped out by the year 2020 due human activities, according to a new study published on Thursday which shows that, for the first time in Earth's history, people are overpowering the planet.
According to the World Wildlife Fund's Living Planet Report 2016, global populations of mammals, birds, fish, amphibians and reptiles have already declined by 58 per cent between 1970 and 2012, the most recent year with available data.
At this trajectory, the decline could reach 67 per cent by 2020, according to the report which was produced in collaboration with the Zoological Society of London.
The Earth is being pushed into uncharted territory, with humanity now violating planetary boundaries that act as safe thresholds for nine critical system processes that maintain life on Earth.
Those already pushed past safe limits include climate, biosphere integrity, biogeochemical flows (nitrogen and phosphorous) and land-system change (such as conversion of forests to agricultural land).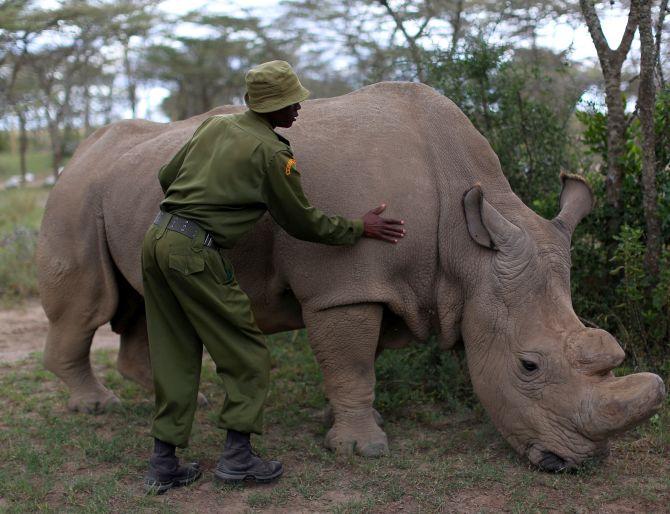 IMAGE: A wildlife ranger strokes a northern white rhino, only three of its kind left in the world. Photograph: Siegfried Modola/Reuters
Some assessments suggest freshwater use has also passed a safe threshold.
Wildlife are disappearing at an unprecedented rate, with a 38 per cent decline in land-based populations, 36 per cent decline in ocean-based populations and an 81 per cent decline in freshwater populations.
According to the report, pollution, climate change and loss and degradation of habitat through agriculture, logging, and man-made changes to freshwater systems are among biggest threats to species.
"Take away species, and these ecosystems will collapse along with the clean air, water, food and climate services that they provide us," said Marco Lambertini, director general of WWF International.
"We have the tools to fix this problem and we need to start using them now if we are serious about preserving a living planet for our own survival and prosperity," said Lambertini.
"Our consumption patterns and the way we look at our natural world are constantly shaping the future of our planet... The power to build a resilient planet for future
generations lies in our understanding of how we are moving into this new epoch that scientists are calling 'Anthropocene' and adopting sustainable practices that decrease humanity's impact on the planet.
"We need to come together as a global community and address the threats to biodiversity to protect our environment as well as our economic and social structures," said Ravi Singh, Secretary General and CEO, WWF-India.
In 2020, commitments made under the Paris Climate deal will kick in and the first environmental actions under the globe's new sustainable development plan are due that year.
"Wildlife is disappearing within our lifetimes at an unprecedented rate...Biodiversity forms the foundation of healthy forests, rivers and oceans.
"Take away species, and these ecosystems will collapse along with the clean air, water, food and climate services that they provide us," said Marco Lambertini, International Director General, WWF.
The report recognises the 2030 Agenda for Sustainable Development as an "essential" guide to decision-making that can ensure that the environment is valued alongside economic and social interests.
Quoting factsheets about India based on reference material sources from public domains, it said 41 per cent of mammals, 7 per cent of birds, 46 per cent of reptiles, 57 per cent of amphibians and 70 per cent of freshwater fish of India's wildlife is threatened with extinction while four of the 386 species of mammals evaluated are already extinct.
Although India aims for 33 per cent forest cover, it currently has only 21.3 per cent of forest and tree cover which makes it one of the countries with the lowest per capita availability of forests in the world, according to the factsheets.
Though India has about 4 per cent of the world's freshwater resources, ranking it among the top ten water rich countries, it is still designated a "water stressed region".
Seventy per cent of its surface water is polluted and 60 per cent of groundwater sources are expected to be in a critical state within the next decade.
According to the reference material, it is estimated that by 2020, food grain requirement will be almost 30-50 per cent more than the demand in 2000 and India could also see a 10-40 per cent loss in crop production by 2080-2100 due to global warming.
Living under pressure
Some of the most iconic animals are under severe pressure for multiple different reasons with one common factor.
For example, poachers have slaughtered vast numbers of African elephants with the population falling by 111,000 to 415,000 in only a decade.
The giant anteater and maned wolf are under threat because the grasslands where they live in Brazil are being converted into soy fields and pasture for cattle.
Chemical pollution is affecting marine life from orcas to polar bears. PCBs used in paints, pesticides and flame retardants have been linked to cancer and weakening the polar bears' penis bone to the point they can snap.
And numbers of Himalayan griffons have plummeted because of a drug given to cattle which gives the majestic birds kidney failure after they eat the meat of dead animals.