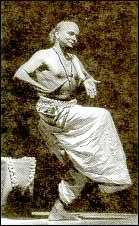 Padma Vibhushan Kelucharan Mohapatra, the doyen of Odissi dance, passed away in Bhubaneswar on Wednesday following a brief illness, family sources said. He was 79.
The artiste, who was instrumental in projecting Odissi dance on the world stage in a big way in the early 70s and who took the classical art form to an ethereal level, complained of uneasiness at around 11am.
He was rushed to a private nursing home but was pronounced dead on arrival. He is survived by wife Laxmipriya, a son and a daughter.
Guru Kelucharan had performed all over India and abroad participating in festivals of India in the United Kingdom, United States, the erstwhile Soviet Union, Japan and Germany.
He was presented the Kendriya Sangeet Natak Akademi Award in 1966. Honoured with the Padmashree in 1972, he received the Padmabhushan in 1989 and Padma Vibhushan in 2000.
The guru, assisted by his son and eminent dancer Ratikanta Mohapatra, had in 1994 set up 'Srijan', an organisation dedicated to train students in Odissi dance.
A large number of his disciples, eminent persons of the state, ministers rushed to the house of the legendary dancer to pay homage.
"I came here 25 years ago to learn Orissi from him. It was due to his love that I did not return," said Ilena Citaristi, an Italian who stays in Bhubaneswar and teaches Odissi at her dance school on the west bank of the Bindusagar Lake.
"We lost a great man," eminent Oriya singer Prafulla Kar said after hearing the news of Guruji's demise. "It is a shock for me," said Oriya film artist Tandra Ray. "We have lost an inspiration, which is irreplaceable," said eminent Oriya music director Narayana Rath.
"His srijan (creation) comes to an end with his death," leading Oriya film actor Bijay Mohanty said.
Disciples from across India and abroad have been telephoning the family to express their condolences. Many of them are expected to arrive in Bhubaneswar on Wednesday for a last glimpse of Guruji, a family member said. Some of his more famous disciples include Sanjukta Panigrahi, Kumkum Mohanty, Sonal Mansingh, Minati Mishra, Protima Bedi and Madhavi Mudgal.
Mohapatra's body will be cremated in Puri at 1500 IST on Thursday, the source said.