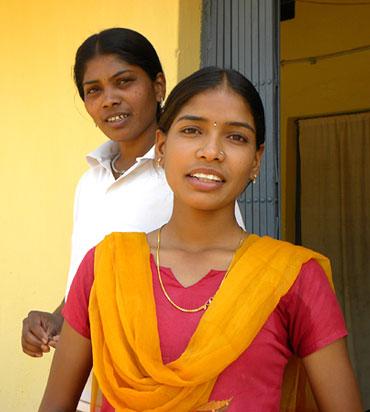 A month after Maoists massacred 76 Central Reserve Police Force troopers in Chhattisgarh, young tribal girls from the Maoist-affected regions of the state will begin a nine-month training programme to become CRPF constables. Archana Masih spoke to a couple of recruits recently and discovered the hope it held for them.
When Kunti Matlam arrived at Ajmer station on Wednesday night it marked a new beginning for the tribal girl from Chhattisgarh. A couple of months ago, she had cleared the entrance test for the Central Reserve Police Force and early this week had boarded a train with 23 other lady recruits from the area to start a nine-month training schedule before induction as a CRPF personnel.
The young girl in her early twenties was excited about the prospects of a new job with a better salary and a new life that would take her from the Naxalite-affected Bastar region to camps in different parts of India as she discharged her duties as a constable in the country's prominent paramilitary force.
The massacre of 76 CRPF troopers by Naxalites (also known as Maoists) in the neighbouring Dantewada district on April 6 has not reduced her ardour for a life in the CRPF uniform.
"I am not scared at all -- in fact I am really looking forward to my training. I had always wanted a job in one of the police forces," says the young woman who till recently had worked for the state home guard, where she said her six-hour schedule included traffic duties and assisting the district police when VIPs visited the area.
Kunti and Nirmala Sahu had been selected for the CRPF from their district. The girls had been working in the district headquarters earning Rs 3,600 a month and say the job with the CRPF would bring them around Rs 10,000 during training and about Rs 16,000 after induction.
"A job with the central government is a huge achievement. It means they don't just provide for you, but also the family. At least now we will be able to have some savings as well. Plus we will get accommodation for family," says Nirmala.
Hailing from poor farmers's families, the girls are the eldest of school-going siblings and see their jobs as the doorway to a better life and opportunities that may not have come their way otherwise.
"People in our village are also very proud of us. They say kaha zila mein rehne waali ab kendra mein jaayegi (here is a girl from the district who will now work at the central level). The news of our selection quickly spread through our villages," says Kunti.
The CRPF selected 58 girls from the region recently. "We ensured that some women from these areas are recruited. We got them in our own bus to the examination centre, we brought these girls from Dantewada, Bilaspur, Bijapur..." says Vijay Raman, Special Director General anti-Naxal operations.
"We were apprehensive that if the Naxalites come to know they are appearing for the test... but you will be surprised only three girls did not turn up. We believe if we take care of the womenfolk the family is taken care of. The very fact that these girls dared makes me very hopeful," he told rediff.com in a recent interview.
Raman says after their training, they will be given a choice to serve in Chhattisgarh or elsewhere. "Ideally I would like them to go some place else, take their family so that they can also see the world outside," he says, but Kunti and Nirmala say they would definitely like to serve in Chhattisgarh.
"It will obviously be very nice, we will be very lucky to get a posting in our own area -- just like the personnel from the Border Security Force come here, who knows we could also be sent on duty here," says Kunti.
The CRPF saw its worst-ever casualty when in a savage attack Maoists murdered 76 men early on the morning of April 6 in Dantewada, Chhattisgarh. A month later Kunti, Nirmala and a fresh batch of women recruits are only looking ahead.
"We are very happy," says Kunti. "We will go there, earn good money for ourselves and our family. And we will be in a position to say that we are doing something good."
Image: Kunti Matlam and Nirmala Sahu, CRPF trainees from Chhattisgarh. Photograph: Seema Pant.