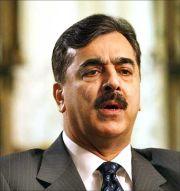 Pakistan Prime Minister Yousuf Raza Gilani's Public Relations Officer Danyal Gilani has refuted media reports suggesting that the prime minister knew Lashkar terror suspect David Coleman Headley.
Reports were splashed across the media that Headley was Danyal's half-brother, and that Gilani had also offered his condolences on the death of Headley's father.
In a statement issued here, Danyal termed the reports as baseless and said it was aimed at creating "unnecessary hype".
"The report was incorrect, misplaced and totally baseless," The Dawn quoted Danyal, as saying.
He blamed the Indian media for sensationalising the issue.
"This he (Prime Minister Gilani) did so out of courtesy, because I was working as his PRO and also because my father was a renowned broadcaster and a known personality of his time," Danyal said.
The PRO said that his ancestors had migrated from Jastarwal in Punjab (India) and Etawah in Uttar Pradesh after 1947, whereas the prime minister's family had been living in Multan for centuries and the two had no relationship with each other.
Danyal said his father who worked for the Voice of America and divorced his American wife in the late 1960s, after moving to Pakistan.
He claimed that he was never in contact with Coleman, his half brother and was also not aware of the fact when he had changed his name to David Coleman Headley from Daood Gilani.
Image: Pakistan Prime Minister Yousuf Raza Gilani