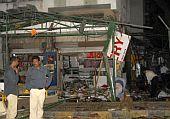 The death toll in the February 13 German bakery blast in Pune's Koregaon Park locality rose to 17 with a 23-year-old woman succumbing to injuries late Friday night, hospital sources said.
Aditi Jindal from Chandigarh was undergoing treatment in the Inlaks and Budhrani hospital, sources added.
Earlier on February 24, a 21-year-old Sudanese student Anas Elphat Suleman had succumbed to injuries at the Jehangir Hospital. He was the fourth foreigner to die in the blast that rocked the popular eatery.
The blast claimed the lives of three other foreigners -- a 26-year-old Sudanese student Amjad Elgazoli, Nadia Macerini (Italy) and Sayyed Syed Khani (Iran) -- besides injuring more than 50 people.